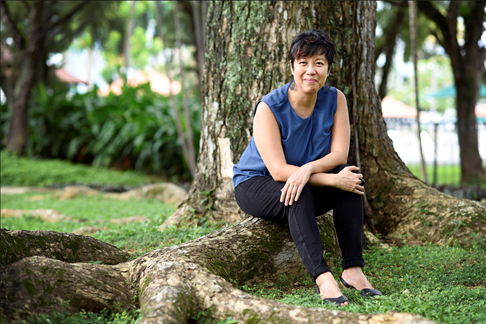 (** PHOTO CREDIT: Caroline Chia)
FOUNDER / DIRECTOR / EDITOR: Eleanor Yap
Eleanor has over 30 years' editorial experience, having worked for consumer and trade magazines, both in the US and Singapore. She was also a stringer at "The Philadelphia Inquirer", while still a student at Temple University in the US. Returning to Asia, she is an advocate for seniors and active ageing, having worked for a seniors' magazine, founding two seniors' magazines and in 2009, starting her own seniors' free online magazine called Ageless Online.
She also founded a youth initiative where youths write about seniors called FACEUP in 2013 and in 2014, an online museum called Time Traveller. The latter has a version in Hong Kong run by the Time Traveller Initiative Hong Kong. Eleanor has also launched an initiative called Ageless Kids to get youths to understand seniors and communicate better with them. In 2018, she started a community initiative called Makan with Seniors as a way to bridge the gap between seniors and youths/others and have conversations over their favourite meals. During the circuit-breaker in April 2020, she started a project called Project BUDDY.
She is also the co-founder and editor of another website called ProjectCare, which celebrates the stories of all caregivers. Other initiatives connected to this website include a Whatsapp chat group for caregivers looking after loved ones with dementia and a Facebook page where the public can share information on missing loved ones with dementia.