A homage to hawker centres
Asian food stalls included in a food hall concept in Resorts World Las Vegas this summer.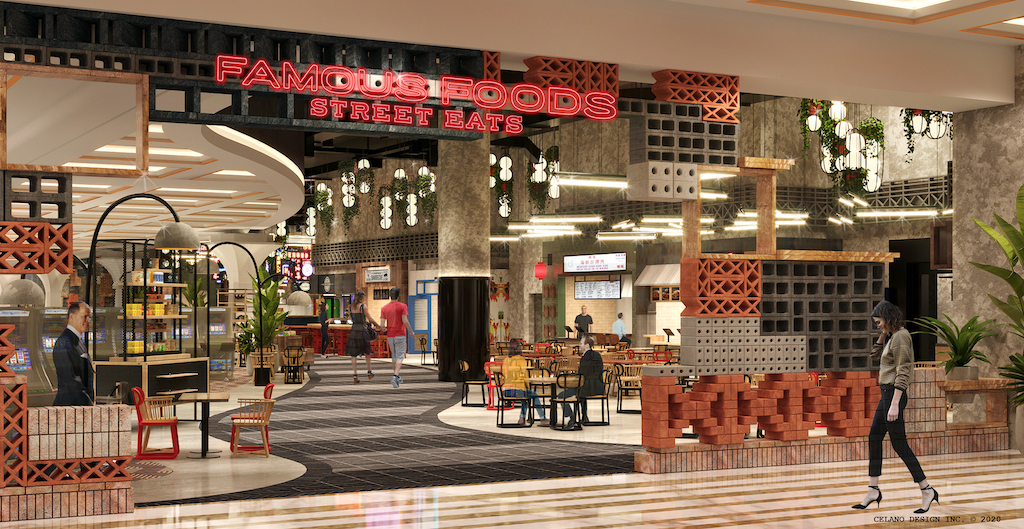 Singapore's nightlife and lifestyle brand Zouk Group is paying homage to Asia's hawker centres by introducing an Asian hawker-inspired food hall concept with authentic street food and cuisines from around the world to Resorts World Las Vegas, the Strip's new integrated resort opening this summer.
Famous Foods Street Eats will be an interactive 24,000-sqft street food destination, boasting 16 diverse food stalls from top chefs and restaurateurs – and the only destination in the US with the most Michelin Plates and Bib Gourmand Awards (honouring restaurants that offer exceptional food at a reasonable price) under one roof. In addition, Famous Foods will feature a vibrant 16-seat centre bar and a picturesque speakeasy in the food hall.
The fun and energetic space, conveniently located right off the casino floor, will feature vibrant neon signs and trinkets, and an open seating area with floor-to-ceiling views of the iconic Las Vegas Strip. With food "edutainment" at the forefront of the Famous Foods experience, guests can enjoy Michelin star meals at an affordable price while immersing themselves in the different cultures and origins of these authentic cuisines.
Famous Foods will also feature two commissioned art pieces by Red Hong Yi, a popular Chinese-Malaysian contemporary artist known for her mixed media interpretations. Anchoring the space will stand a 10-foot tall Lucky Cat sculpture made entirely of gold coins, while a distinct eight-tone mural made of 18,000 tea bags welcomes guests upon arrival.
So, what Asian stalls will there be? Some are very familiar:
• Ah Chun Shandong Dumpling – Serving traditional Shandong dumplings and hand-pulled noodle dishes made fresh daily, earning the Au Chun restaurant the Michelin Guide's Bib Gourmand recognition from 2013 to 2021.
• Boon Tong Kee – With recipes originating in Singapore's Chinatown in 1979, the Boon Tong Kee food stall at Famous Foods will serve its traditional Hainanese chicken rice, featuring poached tender chicken paired with rice cooked in chicken broth.
• FUHU Shack – FUHU Shack is a casual outpost of Zouk Group and Resorts World's vibe dining restaurant, FUHU, serving up a Western reinterpretation of one of China's most desired dishes with Peking Duck burritos.
• Geylang Claypot Rice – Founded over 40 years ago and one of Singapore's favourite claypot eateries, Geylang Claypot Rice earned a Michelin Plate in 2016 and will serve up traditional Southeast Asian rice dishes slowly cooked in traditional claypots with a variety of savoury ingredients.
• Googgle Man's Char Kuey Teow – Using traditional charcoal-fired stoves, Chef Ah Guan ensures that every strand of noodle is expertly fried to produce a smoky aroma called 'wok hei' or 'dragon's breath.' The char kuey teow food stall will serve rice and egg noodles delicately fried with fresh seafood, vegetables and more – a popular comfort food for many across parts of Southeast Asia.
• Pepita's Kitchen – Creator and owner of Pepita's Kitchen, Dedet de la Fuente (or 'Lechon Diva' as she's affectionately known) quickly made her mark on Manila's local food scene with her exclusive 12-course private degustation dinners featuring her stuffed lechon creations that are commonly frequented by stars such as Martha Stewart, Anthony Bourdain and Adam Richman. Pepita's Kitchen food stall will offer a sampling of the Lechon Diva's delectable lechon staples.
• Springleaf Prata Place – A family-themed concept from Singapore, Springleaf Prata Place offers authentic cuisine from South India. Roti canai masters use generational family recipes, earning the restaurant a Michelin Plate and the distinguished recognition as the Michelin Guide's only roti canai eatery. The Springleaf Prata Place food stall will serve delicious staples including chicken curry and teh tarik, a frothy, hot milk tea commonly enjoyed in Singapore.
• Ten Suns Braised Beef – A legendary, family-run Thai beef noodle shop located in Bangkok Old Town that received a Bib Gourmand recognition from the Michelin Guide in 2019, 2020 and 2021.
• Tiger Sugar – The Taiwanese bubble tea shop, best known for their famous Black Sugar Boba Milk, brings their signature syrup-streaked drinks to the Las Vegas Strip featuring a menu of cold black tea varieties.
• Dessert – Serving an array of sweet treats from around the world, the dessert stall at Famous Foods will feature gourmet cookies, treats and pre-packaged goodies.
• Mamak – The translation for a sundry store in Singapore, Mamak will sell merchandise, unique snacks and keepsakes including take-home food kits, books and more for guests to commemorate their experience.