A kueh lapis of activities
A senior activity book for families and caregivers to share with seniors.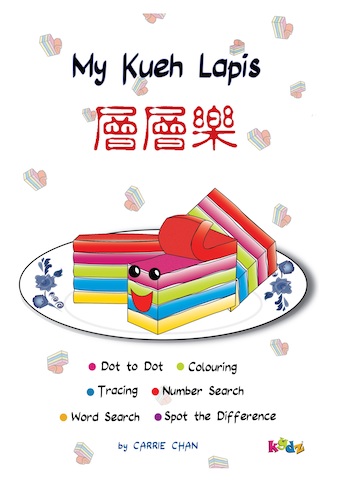 KYDZ International, the company behind a number of products for those with dementia, has come up with a senior activity book called "My Kueh Lapis" for families and caregivers to share with seniors. It is also ideal for those with dementia. The 109-page book has many layers as the book's title describes, and is divided into sections of fun activities such as dot-to-dot, colouring, tracing, number search, work search in both English and Chinese, and spot the difference.
These activities provide a workout for the brain with appropriate levels of difficulty. Specifically, they help to utilise fine motor skills and cognitive skills, stimulate the memory and encourage decision-making. Illustrated with local, nostalgic and heart-warming pictures, the book also paves the way for a hearty conversation and provides cues for therapeutic reminiscing of the good old days. It is also an effective tool for intergenerational bonding sessions.
KYDZ's co-owner and author of the book, Carrie Chan shared, "Most of the books that are on sale are with Western topics and are not a compilation of different activities like word search and colouring. We also wanted to do it with a local theme." She added: "We have tested the book in various senior activity centres and the response is very positive."
"My Kueh Lapis" is available at the end of April at KYDZ International at S$28. To get a copy, e-mail to: kydzedu@pacific.net.sg or call 6274 3688.