Be an ambassador of health
Get healthy and at the same time, inspire others to get on the healthy path.
BY: Tan Boon Leng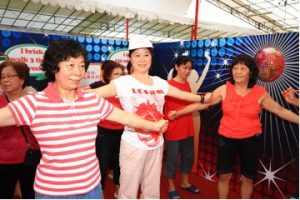 With a longer life expectancy, declining birth rate and rapidly greying population, the Health Promotion Board (HPB) has come up with a new initiative to engage and empower older Singaporeans to live and age healthily.
Under the Senior Health Ambassador Programme (SHAP), individuals aged 40 and above are trained and equipped with knowledge and skills on healthy ageing-related topics, communication and mentoring. These trained ambassadors will then reach out to their respective networks to mentor and empower their peers through a series of engagement initiatives such as workshops, talks, exercise classes, sharing sessions, roadshows and one-to-one health discussion sessions.
Through SHAP, HPB hopes that the ambassadors can positively influence their fellow seniors to exercise regularly, eat healthily, go for regular health screenings and take proactive steps to manage chronic health conditions.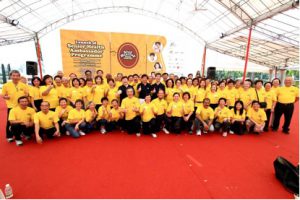 HPB is currently partnering organisations such as the Women's Initiative for Ageing Successfully (WINGS) to recruit ambassadors for SHAP. Since the programme's launch by Minister for Health Khaw Boon Wan (left in black shirt), in March 2011, 138 senior health ambassadors have already been recruited. HPB hopes to eventually sign up 300 ambassadors by end-2011.
"Many older people get their information on health through word-of-mouth – from friends and peers. HPB feels it is important that the correct information be conveyed, and hence we decided to train a group of seniors who are passionate about health, and equip them with the necessary knowledge and skills to provide accurate information about health to their friends, peers and neighbours," explained Patricia Mondonedo, manager, Healthy Ageing Programmes & Healthcare Partnerships, HPB.
"Many think that a decline in physical and mental functions is a natural consequence of ageing. HPB wants seniors to know there are many things they can do to keep themselves healthy and independent as they age."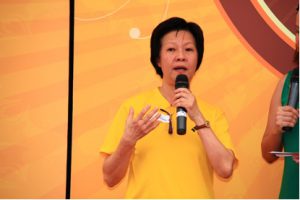 Fifty-seven-year-old senior health ambassador Geraldine Wang (right) added: "I believe that each and every one of us will be able to enjoy our golden years if we just take simple steps to do so. Apart from exercising and eating healthily, it is important to keep positive and socialise with others within the community. It is also important to go for regular health checks so that if there are any problems, you can deal with them early on."
---
Interested in inspiring other seniors?
If you are interested in health and have a passion to volunteer, why not take a leaf from Wang's example and sign up as a senior health ambassador and inspire someone close to you? 
As an ambassador, you get to learn about healthy ageing, and you get to participate in workshops, exercise classes and healthy cooking demonstrations. You can also pick up useful tips from experts and share them with others!
Topics that will be covered include nutrition, physical activity, mental wellness, smoking and alcohol, health screening, staying physically independent (functional healthy) and chronic disease management. You will lead a healthier and happier lifestyle with your family and friends, and get a chance to inspire others to do the same.
You need to be at least 40 years and above and you can contact HPB at: 1800 223 1313 or e-mail: hpb_healthy_ageing@hpb.gov.sg.
---