The Breast Cancer Foundation callout aims to redefine the role of men in getting women to go for early detection.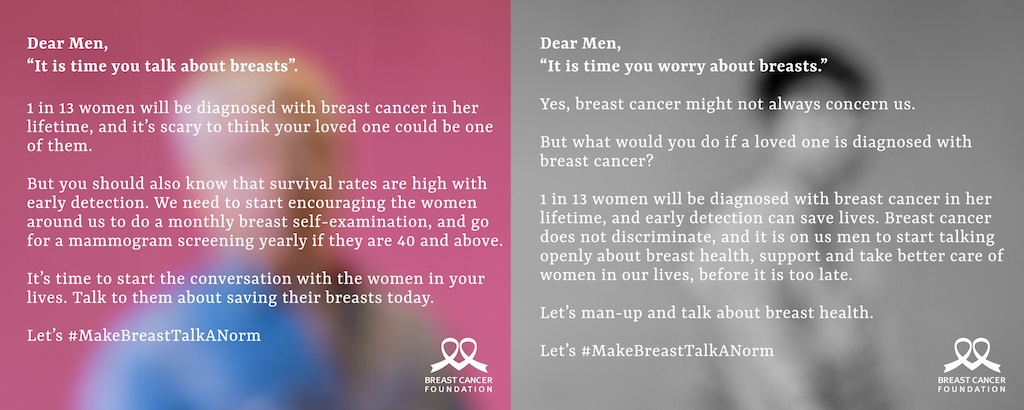 In line with Breast Cancer Month (BCAM) 2023, Breast Cancer Foundation (BCF) is introducing its inspirational callout 'Dear Men', in line with the national Breast Cancer Awareness Month (BCAM) campaign theme 'Keeping Her In The Picture'. 'Dear Men' by BCF aims to redefine the role of men in getting women to go for early detection by asking men to talk about breast health, and that saving lives through early detection should not be women alone, but a collaborative effort by looking out for their loved ones.
Natalie LAU, BCF head of advocacy and communications, shared: "For years, breast cancer has been perceived as mainly a woman's issue and having little or nothing to do with men. In line with this year's national campaign theme "Keeping Her In The Picture", the role of men takes on a newfound significance in the fight against breast cancer. The resounding, heartfelt call of 'Dear Men' serves to encourage men to talk about breast health and remind the women they hold dear – mothers, sisters, daughters and other loved ones – to prioritise breast cancer screening."
A recent study by the Singapore Academy of Medicine revealed that women who perceived themselves to be important to family members, and who were encouraged by their loved ones to be screened were more likely to go for early detection. Another focus group study by DDB Worldwide, creative agency for BCF, revealed the following: "If, like a partner, my husband would encourage me, I feel that he is vested to know that my health is at a clear state. I think that is going to be very encouraging as well."
Breast cancer is the leading cause of cancer death in women, Singapore and worldwide, yet less than 40 percent of Singapore women get their mammograms done. Top reasons include lack of social support, fear of painful procedures, negative results and perceived lack of necessity. At the same time, a separate study revealed that men also have an added barrier of awkwardness that stops them from talking about it with their loved ones on the topic.
Over the years, BCF has been actively raising public awareness of breast cancer, early detection through awareness talks and outreach at corporate, community and signature events like Pink Ribbon Walk.
For this year's BCAM, it is no different – there are number of activities:
(a) Pink Light Up 2023 – In October, Singapore will be bathed in a pink glow much like iconic locations around the world including the Singapore Flyer, Marina Bay Sands and more. At least 20 locations will be lit up in pink as a show of solidarity. To encourage active participation and spark creative expression, BCF will host a photo contest, requiring keen participants to follow map clues, locate, capture and share images of pink-illuminated buildings on social media. For more information, go to: www.bcf.org.sg/pink-light-up/.
(b) Pink Partners – In a remarkable display of solidarity, "Pink Partners", a coalition of over 30 brands unite to support breast cancer awareness, by turning customer experiences into meaningful contributions. "Pink Partners" consist of renowned establishments like Fullerton Hotel, IHG Hotels & Resorts, Pazzion, Ralph Lauren and more contributing to a great cause in creative ways.
For a limited time, patrons can expect to indulge in unique pink shopping experiences that include Pink high-tea, specially-curated F&B offerings, wellness and lifestyle products, beauty and skincare, limited edition footwear and "Pink Pony" products. A portion of the proceeds will be generously donated to support BCF's mission. Find out more – www.bcf.org.sg/pink-partners/.
(c) Community Mammobus Programme – BCF remains committed in running the monthly activations at specific community locations in Singapore as part of the tripartite (NHGD-SCS-BCF) community mammobus programme for eligible Singaporeans and PRs. Upcoming activations will be in the areas of Sin Ming (October 2023), Bishan (November 2023) and Toa Payoh (December 2023). To find out more, go to: www.bcf.org.sg/our-services/#section-community-mammobus-programme.
(d) Pink Ribbon Walk 2023 – Presented by Income, this year's BCF signature event will kick off in a refreshed carnival-style fashion on October 29 with fun-filled fringe activities like face-painting, T-shirt decoration and a best fancy dress contest which allows for creativity and innovation in showcasing awareness and support messages. Conventionally, Pink Ribbon Walk has always attracted more women participants than men. This year, in conjunction with BCF's 'Dear Men' heartfelt callout, the Walk aspires to see greater male participation. The Walk's route will traverse some of Singapore's most iconic landmarks, including Marina Bay Sands and The Esplanade. For more information, go to: www.bcf.org.sg/pink-ribbon-walk/.