A panel discussion at ELDEX Asia had four active agers sharing their inspiring stories.
It was all about celebrating active agers. Ageless Online held a panel discussion during the inaugural ELDEX Asia that featured four inspiring active agers. One of those who was seated on the panel was also the emcee for the panel discussion. She was none other than Ellen Cheng, 70, a lifelong learner. She is often attends talks, seminars and conferences regularly, and sometimes she is also an emcee. She volunteers in her community and swims regularly.
During her individual sharing, she shared her poem:
"When we grow old
We've got to be bold
We don't like to be told
We are too old
For this and that!
We could pick up new skills
And succeed with our will
We could try many new things
Because we dare
And need not care
What people will think
We are not just old,
We are bold!"
Besides Ellen, there was Uma Chellam, 57, who doesn't let any barriers get in her way. She has two Masters' degrees and has survived multiple major heart surgeries as well as uterine cancer. She keeps busy by volunteering and participating in support group activities. She also enjoys Chinese brush painting. There was also Lily Boon, 80, who loves the piano. You can catch her playing at churches, home parties and events. She doesn't carry her music book though; she plays mainly by memory and even takes audience's song requests.
Also on the panel was the only man among the roses – David Pattiselanno, 81, who will be celebrating 10 years of volunteering next year! He also does comic sketches and a few of his pieces are on display at the International Arbitration Court. He ended the session in a high note, playing a song on his little harmonica.
During the session, there was an artist in the audience called Raymond Li who added a special touch to the session and drew the active agers. Below is his picture: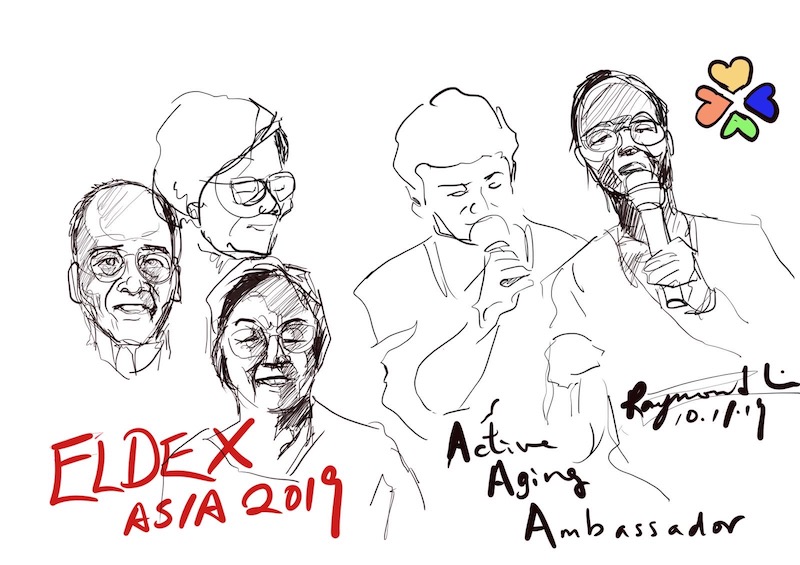 ---