A pilot community initiative that provides low-income seniors access to groceries.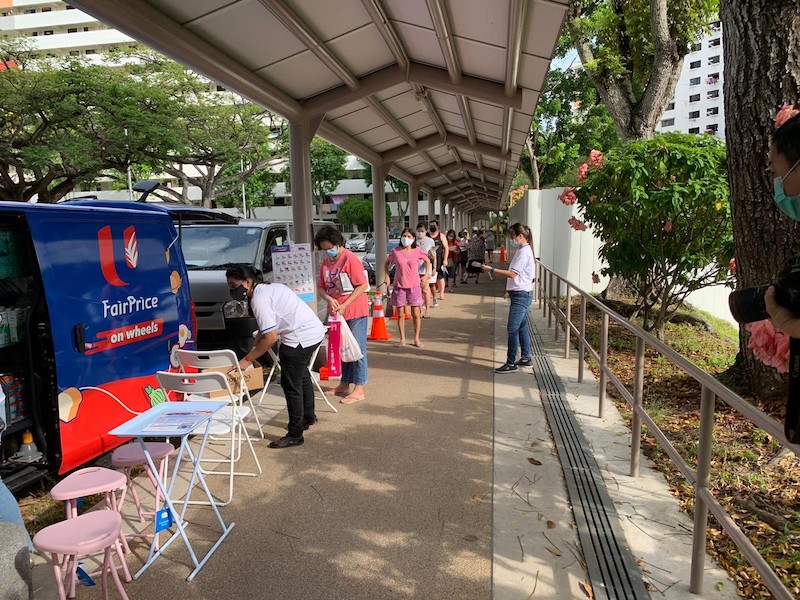 NTUC FairPrice has a pilot called "FairPrice on Wheels", a community initiative that provides basic essential grocery items at selected mature estates with a higher concentration of low-income seniors through specially outfitted grocery vans.
Seah Kian Peng, Group CEO, FairPrice Group said: "While we encourage everyone to stay home during the circuit breaker period, we also understand that there may be people who do not have the option to have their groceries purchased on their behalf. Therefore, we aim to bring daily essentials closer to their homes, especially for seniors, so that they do not have to spend too much time away from home.
"We have also received feedback that some residents would also like to help their elderly neighbours purchase the groceries on their behalf and with this mobile van, it makes it that much more convenient for them to do this good deed for their neighbours."
"FairPrice on Wheels" carries basic grocery essentials which includes a targeted range of rice, bread, instant noodles, cooking oil, canned food, toiletries, fruits and vegetables. However, there are purchase limits which are at the store and are the same for "FairPrice on Wheels":
Paper products: Two packs (toilet paper, facial tissues, kitchen towels)
– Instant noodles or pasta: Two packs
– Rice: 10 kilograms
– Vegetables: S$30
– Fresh, frozen and processed poultry: S$30
– Eggs: Three packs of 10 or One tray of 30 per customer
– Canned products: Six cans (choice of meat, fish or vegetables)
– Cooking oil: Five litres
The vans operate daily from 9am to 2pm and accept cash only. The van is open to all, and seniors who visit these vans will also be able to enjoy discounts from the Pioneer Generation (PG), Merdeka Generation (MG) and Senior Discounts schemes on its designated days.
"FairPrice on Wheels" serve the following five locations:
Commonwealth Link (Carpark between Blk 109 and Blk 110)
Telok Blangah Crescent (Loading/unloading bay between Blk 1 and Blk 4)
Telok Blangah Rise (Carpark between Blk 29 and Blk 32)
Kampong Glam Community Club (Carpark in front of Post Office at Blk 15)
Jalan Kukoh (Car park in front of Blk 2)
These five locations were specially selected based on demographic data where more than 30 percent of residents are above the age of 60 years old and are living mostly in three-room HDB flats.
According to a FairPrice spokesperson, "At this juncture, we do not have meaningful data to share that would accurately represent how this initiative is performing since it was launched less than a month ago. Nonetheless, we will continue to monitor community receptivity towards this alternative avenue for the community, particularly seniors, to conveniently and safely acquire their daily essentials."
Better equipped and designed vans are being planned which will add to the existing fleet to serve more areas. Added services such as pre-ordering is also being considered and could be made available at the next phase – details will be released at a later date.
Taking reference from the Ministry of Health's and Enterprise Singapore's safe distancing and safety guidelines, FairPrice has also put in place various precautionary measures to maintain safe distancing while shopping at "FairPrice on Wheels" vans. These measures include maintaining safe distancing through cone markings and crowd control measures. Staff will be on the ground to facilitate queue management. All shoppers and staff are also required to put on a mask at all times when patronising the mobile store.
Customers may  contact the van through a dedicated mobile number to check in real-time on the queue status before making their way down (see numbers below):

• Commonwealth Link: 9668 4059

• Telok Blangah Crescent: 9668 4597

• Telok Blangah Rise: 9668 4052

• Kampung Glam CC: 9817 4170

• Jalan Kukoh: 9817 4163
(** PHOTO CREDIT: NTUC FairPrice)
---