Flamenco Sin Fronteras' community outreach programme has more than 20 seniors doing flamenco dance moves.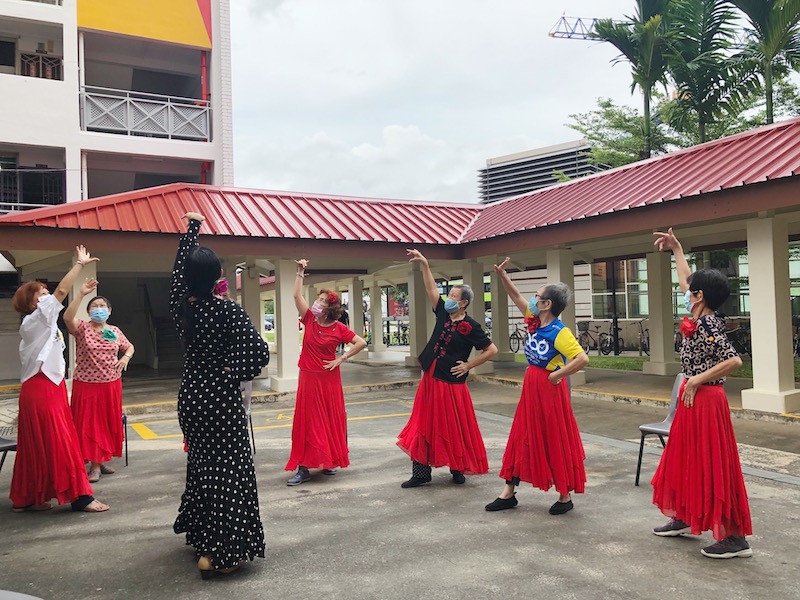 Sixty-nine-year-old Florence Ng has never danced before. Last year, she saw a flamenco group down the block where she lives and they asked whether she would be keen to join. She jumped on the chance to try something new and to add to her other exercise routines such as walking, swimming and following exercises on YouTube. She explained, "Exercise for me is something I have to do."
She is one of the newest members who have come onboard the community outreach programme for seniors organised by non-profit flamenco dance troupe, Flamenco Sin Fronteras (in Spanish meaning flamenco without frontiers), in partnership with non-profit organisation, Social Health Growth. The programme currently in its third year got started with a group of around 10 low-income seniors at Circuit Road and today, the number has grown to more than 20 seniors, with the oldest being 85 and all females. "Some have dropped off and some have carried on," explained Daphne Huang, director of Flamenco Sin Fronteras, and also one of the organisation's dancers.
The one-hour sessions are held every Wednesdays at the Residents' Committee (RC) centre at Circuit Road to teach the seniors basic flamenco dance moves, and simple dance exercises to help them to cope with body aches, improve their coordination skills and loosen their joints. Last year, Flamenco Sin Fronteras added a session on expressing emotions through music and movement.
Shared Florence, "You have to practice. You need to be familiar with the steps and counting, and it is not very vigorous. It is very gentle and you do it to your own ability and go as far as you want to go. It is good to memorise steps and it is quite fun." She added that since joining the group of seniors, she has gotten to know those in her community much better.
However, COVID hasn't dampen the programme too much. The programme took a pause during Circuit Breaker, Phase 1 and part of Phase 2. Explained Daphne, "Digital was not feasible as most of the seniors do not have a digital setup at home and some barely use a smartphone or computer."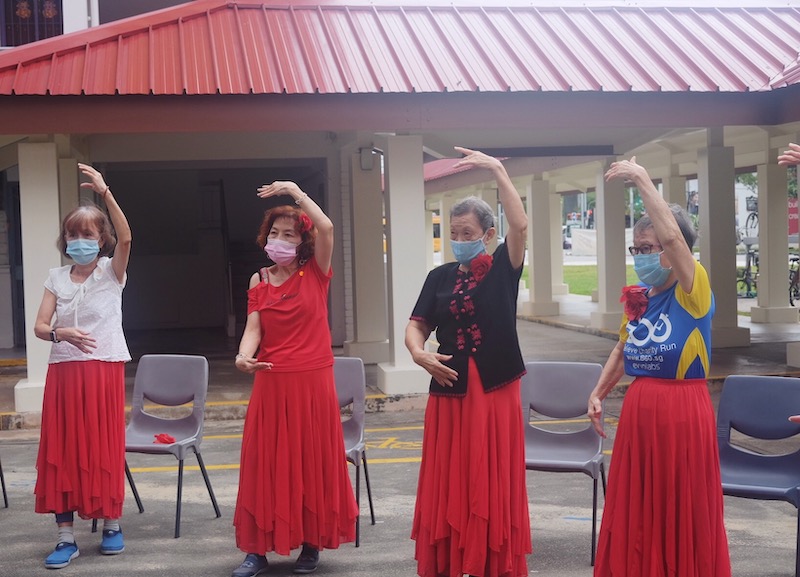 The programme got re-started in August last year with initially five seniors at each of the sessions. Now eight are allowed and the seniors have to take turns to attend the sessions. Though the seniors don't just come to sessions and learn, they also look forward to a yearly performance, which is open to the public. However, because of COVID, last year's performance was filmed into a video clip and posted on the Flamenco Sin Fronteras' Facebook page.
Florence, a grandmother of two, has praises for the programme, adding "It shows that seniors can do this dance."
** One of the sessions of Flamenco Sin Fronteras' seniors programme will be shown on Got to Move's (GTM) Facebook page in mid-February as part of its Dance x Social series of videos. The flamenco group is open to new members who reside in the area of Circuit Road. If interested, write to: admin@flamencosinfronteras.com.sg.
(** PHOTO CREDITS: National Arts Council)