Making the world more accessible
An accessible travel startup has added Singapore to its platform offering those with disabilities a chance to travel to places they might not have gone before.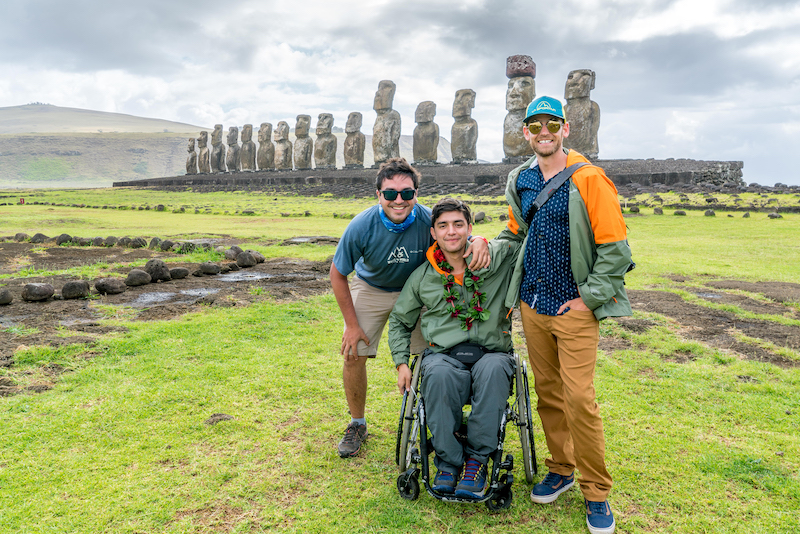 A US accessible travel startup, Wheel the World has added Singapore to its platform which includes more than 40 destinations in 15 countries, allowing the world to be more accessible to those with disabilities. It recently won a "Best in Travel 2021" from Lonely Planet as the best company for inclusive tours.
Ageless Online spoke to Arturo Gaona, head of partnerships and part of the founder team at Wheel the World about the importance of inclusive travel, the idea behind Wheel the World, and our city-state:
You all are trying to empower those with disabilities to explore the world without limits. That is a hard call as some countries are not only hard for those who have no disabilities, they become a huge problem for those with disabilities. Can you share more about your company?
Wheel the World is a social enterprise with the purpose to make the world accessible.
Through gowheeltheworld.com, people can find and book accessible travel experiences including hotels, tours and activities with the accessibility they need, in the most amazing destinations in the world.
We believe that people with disabilities should experience the world like anyone else. Governments, travel companies and tourism professionals are all joining the accessible travel movement, especially given the exponential growth of people with disabilities traveling around the world.
How did Wheel the World get started? 
Our co-founder and CEO Alvaro Silberstein always dreamed of visiting Torres del Paine in Patagonia. After he had an accident that left him paralysed from the chest down, this seemed impossible. Torres del Paine isn't accessible. One day, Alvaro and his friend Camilo (our co-founder and COO) came up with the idea of travelling there together anyway. They realised that no wheelchair user had done that trip before, but that with a special hiking wheelchair and the right information about the accessibility of accommodations and transportation, it was possible. This was Wheel the World's "aha!" moment – let's be the first people to complete the W-trek in Patagonia in a wheelchair, and communicate it through videos and photos to inspire others to do it too. The trip was incredible. Alvaro, Camilo, and a team of friends that Arturo was part of, completed the W circuit in Torres del Paine. The story went viral and hundreds of people with disabilities started to reach out wanting to take the same trip. So, they began to organise this trip for others, using the information and equipment from their own journey to encourage others to explore without limits.
While helping over 50 people and their companions explore Patagonia, they discovered that there was a lack of information about accessible travel services in destinations around the world. So, they co-founded Wheel the World.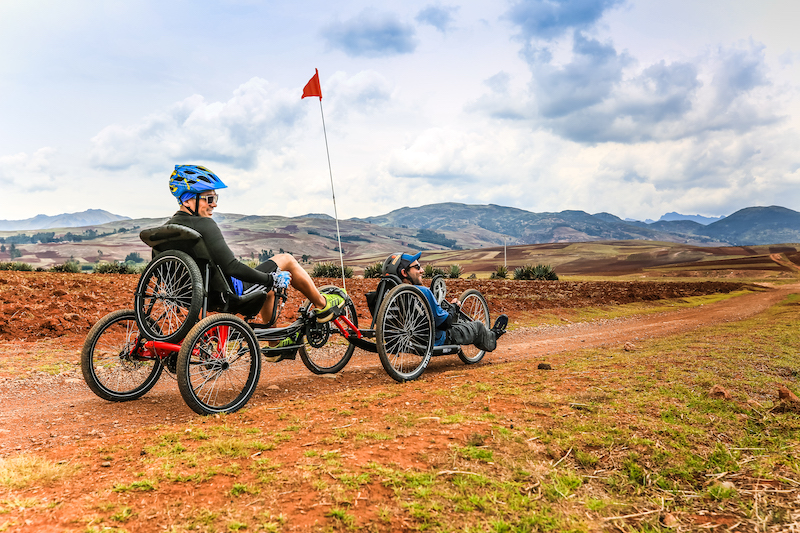 Even before one can go to any country, it can be a challenge with airplanes, hotels, and other places just to get to those countries. They are not very disability-friendly. How will you also be addressing this through your platform or not?
We are aware that the world has not been made for people with disabilities, nevertheless there is a lot of accessibility in the travel industry. A big challenge is that information is very hard to find and, in many cases, it may not be accurate. There are many different challenges on making this possible but a very important one is giving access to reliable information about the accessibility of travel products. To scale this vision, we need a lot of help from industry partners in the travel industry as we require to gather specific data points on accessibility. That is why we have created the AMS (Accessibility Mapping System) which is becoming the core of our data model; our moonshot is to have the largest database of accessibility in the world.
What interesting features does your platform have for those with disabilities? Can your platform allow for feedback from travellers with disabilities so more travellers can learn?
All of our processes are developed around the needs for travellers with disabilities, as well as for their families and friends – and that is already a game changer for them.
We are building an online platform, gowheeltheworld.com, that offers accessible travel experiences including places to stay, things to do, and multi-day tours. Wheel the World provides accurate information and confidence to travellers with disabilities when booking a trip through the platform in three steps. First, we map detailed accessibility of travel partners (hotels and tour operators). Then, we advise them on how to create an accessible service. Lastly, we organise their relevant information into our systems which is then offered to travellers as an accessible experience.
Since 2018, 1,200 travelers with accessibility needs have booked trips through our platform. They have travelled to places from New York to Machu Picchu. We've allowed people with disabilities to access places that they never thought possible – Patagonia, Machu Picchu, Oaxaca and Easter Island.
Our value proposition comes from two main concepts:
We're collecting detailed data about accessibility of accommodations and tours. For example: Door width, type of shower, type of transportation, etc. This is information that no other player in the industry has that is crucial for a traveller with disabilities to know. Our goal is to create the largest database of accessibility information in the travel industry. We are doing this through our systems and crowdsourcing through our community of over 50,000 people.
We're building a user experience totally focused on allowing people to understand the accessibility of the services we offer through com. This is complemented by experienced customer support with knowledge about disabilities. Our product is 100 percent focused on accessibility for people with disabilities.
It is not only about solving the specific needs of our customers, but also about empowering them to get out there and discover the world. It is an invitation to live the fullest!
You have included Singapore in your platform and are working with Sentosa for activities and Shangri-La for accommodations. I am sure you are planning on getting others as well. What are your goals to making inclusive travel in Singapore with your industry partners? And how has the Singapore Tourism accelerator programme helped you?
We were able to enter Singapore because of the Singapore Tourism Accelerator programme (STA), organised by Singapore Tourism Board (STB). What I found very powerful from STB is that despite the current situation, they continuously push for innovation through programmes like the STA with travel startups from all around the world. I believe that this communicates a strong message that Singapore is an international hub for innovation and digital transformation in the travel and tourism industry.
The focus areas of our participation during the STA were:
Testing our Accessibility Mapping System (AMS): We were able to develop a new version of it and test it with real industry partners in a variety of travel products that we were able to map out. The AMS is becoming an important core part of Wheel the World; it is the tool that will enable us to have the largest database of accessibility information for the travel industry in the world. It is important to mention that in general our work requires a lot of onsite, in-person action, but we had to adapt to the travel restrictions by creating a remote solution. We searched for Accessibility Ambassadors in Singapore, and they became our eyes and our hands on-field. With this we were also able to understand how to onboard a new destination without actually going to it.
Accessibility showcase and assessment: We took our accessibility standards to another level and we were able to implement this with our industry partners in Singapore. This means using the data of the AMS and converting it into user-friendly information which is part of how the travel products are curated. Additionally, our industry partners got an assessment of things they could improve to become more accessible, but also be aware of which features are already well set-up.
Online and training certification: To make the travel industry more accessible, we believe that tourism professionals should have access to relevant knowledge on how to assist travellers with disabilities. We implemented our first version of an e-learning platform where we were able to train 80 tourism professionals in different topics around mobility disabilities and accessibility.
As a wrap up, our participation in the STA helped us to accelerate the activation of specific tools and methodologies that will help us to scale in the next 18 months. We have exciting plans to help make Singapore even more accessible for travellers with disabilities. Over the next 12 months, we would like to partner up with 50 hotels and have at least seven tours or activities and are currently searching for additional partners to make this possible.
We also wanted to add that a big challenge is lack of information on the supply of products and services available to meet the demand within the industry. To elaborate, a lot of products and services in Singapore (and around the world) are already accessible. The problem is that this information is not readily available, especially online. Nowadays your trip planning starts online, so that is where information on accessibility should be. Wheel the World is providing technology and systems to make this possible so that in the future, millions of people with disabilities can travel to thousands of destinations.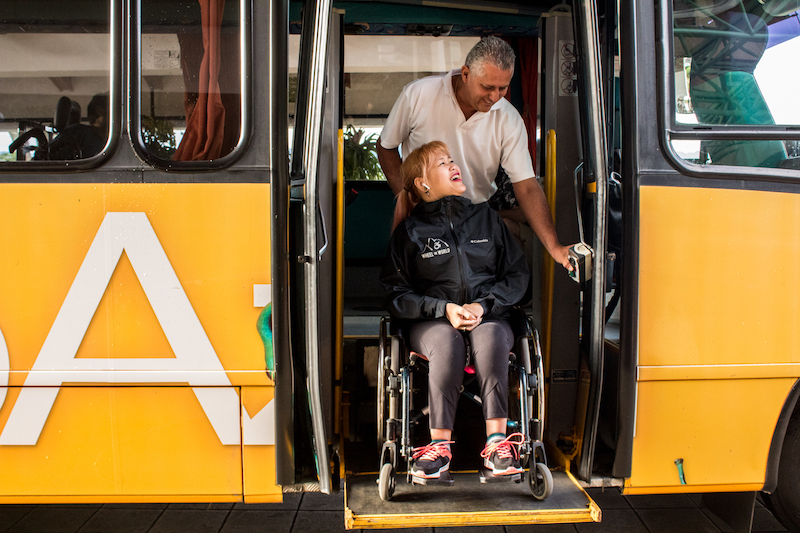 Let's talk about COVID. How has COVID-19 affected your company in rethinking travel? How do you see travel in post-COVID?
In November last year, we started looking for investors and everything was looking good. COVID-19 hit, and it made everything more difficult as the tourism industry was impacted heavily. Investing in a travel startup did not seemed like a good idea. While we realised that the industry will recover from this "pause", the game will be different, and solutions required will change. The situation made us stop and rethink our purpose and priorities which allowed us to fine-tune our pitch deck and plan. We continued pushing for investors and venture capitalists and managed to close our seed round with the CEO of YouTube amongst our investors. This will give us the necessary fuel for the next 18 months.
Additionally, we were successful at delivering the expected results to our industry partners from the STA while learning new ways to implement solutions that will help us to scale up. A key learning point was adapting to the situation – in our case, leveraging local contacts to onboard new destinations without needing to be physically there as before.
We also believe that travel post-COVID needs to be more sustainable, and this belief is aligned with the UN Sustainable Development Goals; it is the way to go. The organisations that commit to this will become stronger in the future and will make the world a better place.
How much do you see has improved over the years in terms of inclusive travel and what other areas do you feel that still need to be addressed?
The industry has improved a lot, but more can be done. The big players in the market have been trying to address the issue, but they can look to pivot their focus and processes more towards travellers with disabilities. Each person with disability has their own unique needs, which means that accessibility needs to be addressed in different ways. It is not a black or white thing. The key is to provide information, not only to the traveller, but also to tourism professionals, so as to educate and inform more stakeholders around disabilities and travelling for those with disabilities.