Maps of early Singapore on latest stamps
Four of these from the National Library's rare materials collection are being featured on four stamps.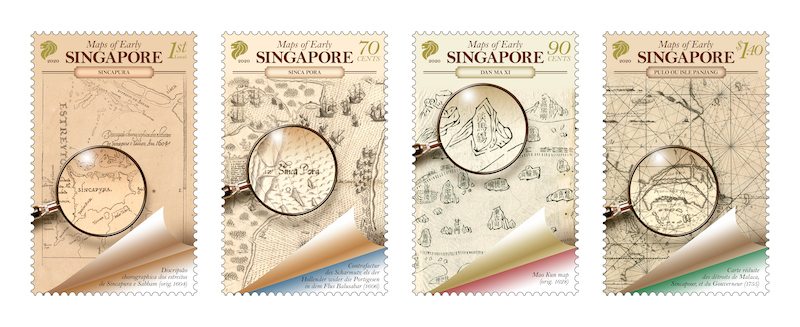 Four maps of early Singapore from the National Library's rare materials collection will be featured on four stamps that SingPost has launched. They each come in the following denominations – 1st Local, 70 cents, 90 cents and S$1.40. A First Day Cover and a Presentation Pack will also available at S$4.80 and S$5.85 respectively.
For a closer look at the original maps which were provided by the National Library Board (NLB), visit NLB's BookSG website (https://eresources.nlb.gov.sg/printheritage/). Early maps offer a fascinating window into Singapore's history. Some of these provide material evidence of Singapore's existence as an important navigational landmark and the place of trade in the maritime crossroads of East and West, long before the arrival of the British in 1819.
They also preserve on record the various indigenous names of ancient Singapore. These indigenous names, such as Temasek ("sea town") and Pulau Panjang ("long island") are part of our heritage that live on today. These maps document Singapore's early maritime roots, which in turn provide an anchor for our understanding of the development of modern Singapore as a global trading and shipping hub.
The four maps include:
1. On the 1st Local – Originally drawn in 1604 by Manuel Godinho de Erédia, a writer and cosmographer born in Melaka, this map captures one of the earliest close-up views of Singapore as an island. It depicts a "Xabandaria" (harbour master's compound) on the settlement, and the Old Strait and New Strait − two key waterways that connected the East-West trade routes. These features indicate the presence of trade activities in Singapore during the 17th century. Interestingly, the map also bears familiar names such as Sungei Bedok, Tanah Merah and Tanjong Rhu, which are still in use today. This map comes from a 19th-century facsimile of the manuscript authored by Erédia.
2. On 70 cents – This 17th-century European map depicts a schematic sketch of a naval battle between the Dutch and Portuguese forces off the southeastern coast of Singapore and in the Johor River in 1603. Printed in 1606 by the de Brys, a well-known Flemish family of cartographers, the map highlights the strategic importance of Singapore as European powers wrestled for control of key waterways that provided access to the profitable Asian trade. This intense rivalry continued right up to the 19th century, paving the way for Singapore's rise as a global seaport.
3. On 90 cents – Besides European maps, Chinese sources such as the Mao Kun map also made references to Singapore. The Mao Kun map is the name for a set of nautical charts thought to be based on the naval expeditions of Ming Admiral Zheng He to Southeast Asia and the Indian Ocean in the 15th century. It was first published in a military treatise, "Wu Bei Zhi", in 1628. Singapore appears as a land feature named "Dan Ma Xi" (淡馬錫 or Temasek, the name that preceded Singapura) on a sailing route from Melaka to China through the Straits of Singapore. This map comes from a late 19th-century imprint of "Wu Bei Zhi".
4. On S$1.40 – A chart dated 1755 by French hydrographer Jacques-Nicolas Bellin shows the navigational route along the Melaka and Singapore Straits. Singapore is labelled here as "Pulo ou Isle Panjang" (Pulau Panjang or "long island" in Malay). This is the most common name used in early European maps to refer to the main island of Singapore. The map also indicates the main sea channels of Singapore − the Old Strait, the New Strait and the Governor's Strait – that provided passage to ships travelling between the South China Sea and the Indian Ocean.
Purchase of these stamps can be done at any post office, philatelic stores or online via shop.singpost.com.