Nationwide virtual steps challenge
Dementia Singapore inspires hope for the dementia community through the challenge.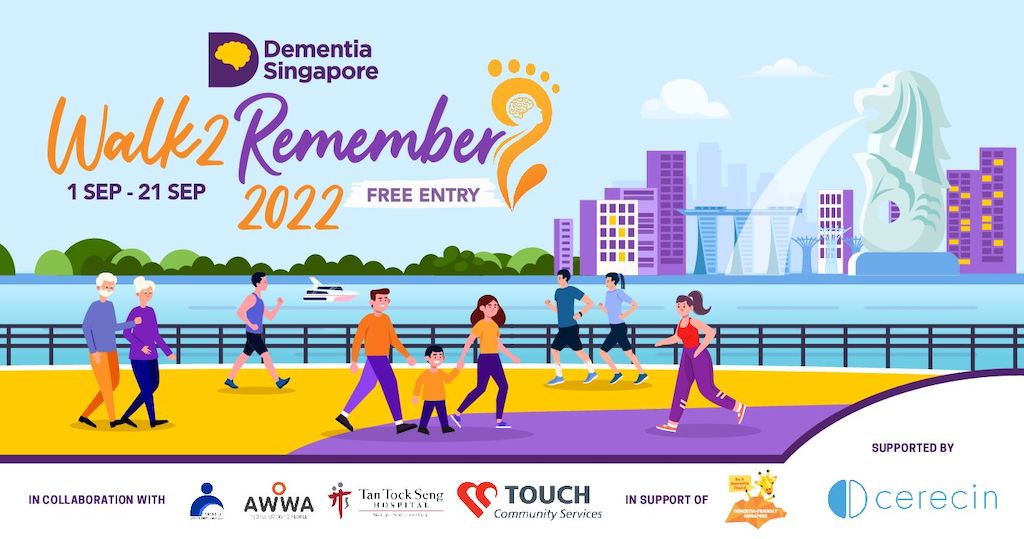 Singapore will be asked to go the extra mile for the dementia community as Dementia Singapore embarks on its annual nationwide virtual steps challenge during World Alzheimer's Month for participants to show their support for some 100,000 persons living with dementia here.
Called Dementia Singapore Walk2Remember 2022, the 21-day virtual steps challenge will be held from September 1 to 21, 2022. The event is organised by Dementia Singapore in collaboration with four of its partners from the Ang Mo Kio Partners' Network – namely, AMKFSC Community Services, AWWA, Tan Tock Seng Hospital and TOUCH Community Services. It is also in support of the Dementia Friendly Singapore initiative by the Agency for Integrated Care (AIC).
There are five milestones for participants to achieve over the course of the 21 days: 20,000 steps, 50,000 steps, 100,000 steps, 150,000 steps, and 200,000 steps. As they clock in their steps, participants can also complete 'missions' and find out more about dementia and Dementia Singapore. Registration is free.
"Where there is love, there is hope. Beyond raising awareness of dementia, our goal this year is to inspire hope for the dementia community. We want to show everyone impacted by dementia – be it the people living with the condition, their caregivers, family members, or professional healthcare workers – that they have allies in our society walking with them and for them, every step of the way," said Dementia Singapore CEO, Jason Foo.
"Dementia Singapore Walk2Remember 2022 is our way of empowering more people to pledge their support for our growing dementia population and ultimately, get involved in helping us build a dementia-inclusive Singapore."
Participants can register for the virtual steps challenge via Dementia Singapore's virtual race partner, 42Race, at https://web.42race.com/race-bundle/dementiasgwalk2remember2022. They will then be prompted to download the virtual race application on their mobile phones, which will run in the background of their smart devices and record the number of steps they take each day. The total number of steps each person clocks will be tallied over 21 days, culminating on September 21, 2022, which is World Alzheimer's Day.
This year, 500 lucky participants who have completed 100,000 steps and above will stand to win a limited edition 'Walk2Remember 2022' T-shirt. In addition, Dementia Singapore Walk2Remember is partnering with Fitbit by Google for the second year running to provide discounts and prizes for participants. All participants will receive a 20-percent discount with free shipping for all Fitbit by Google products on its online retailer fitbit.com/sg from now till the end of the event on September 21, 2022.
Two lucky participants who have completed all five milestones – 200,000 steps and above – will also stand to win a Fitbit Versa Lite each. Another eight lucky participants who have successfully completed the 'Missions' challenge – where participants are required to complete a set of tasks to learn more about dementia and Dementia Singapore's programmes and services – will stand to win a Fitbit Charge 4 each in a lucky draw.