New Chef-In-Residence series in Textures festival
Bringing literary and culinary arts together.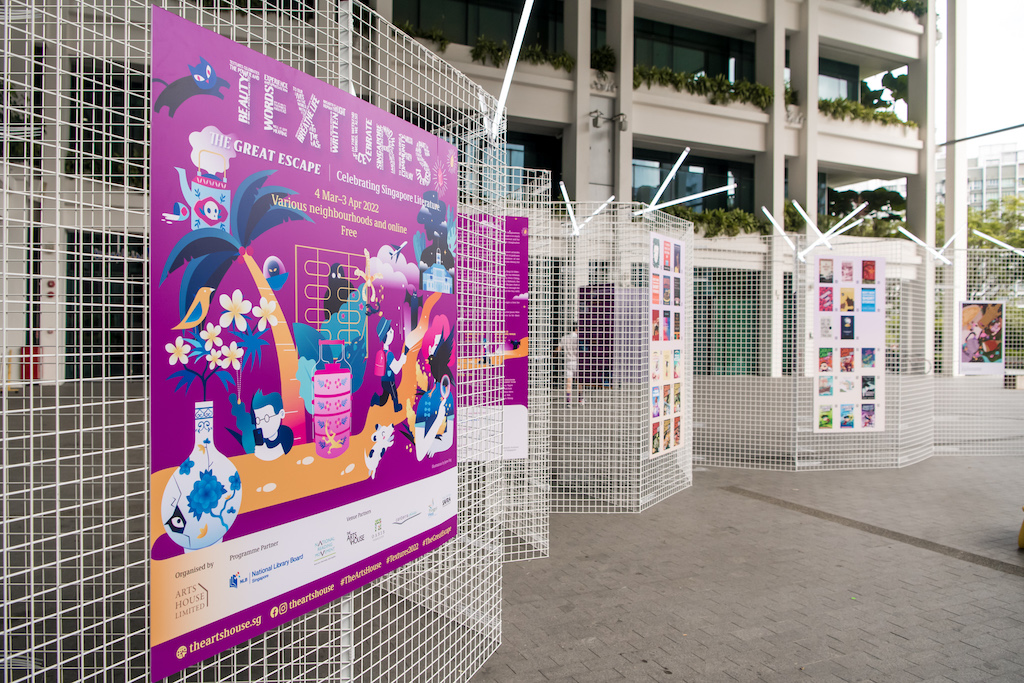 The fifth edition of Textures, happening now till April 3, 2022 has added a new Chef-In-Residence series which combines both literary and culinary arts to the festival line-up. Organised by Arts House Limited (AHL), the annual literary festival that celebrates Singapore literature is curated by critically-acclaimed, multi-disciplinary artist Jason Wee for a second consecutive year. This is the first time AHL is partnering with Country Foods to present this programme.
With the theme, The Great Escape, Textures 2022 invites audiences to let their imaginations run free and escape into the imaginative terrains of Singapore literature. Working with Country Food's experience in food logistics and culinary expertise, chefs Mary Gomes, and KKI Sweets' Kenneth Seah and Delphine Liau, will present a special culinary experience along the theme within Country Food's R&D space in the annex building of The Arts House.
Starting this weekend, chef Gomes will explore the gastronomy of Eurasian food and it will be paired with reflections by writers who have written about food as well; and tea on a Sunday afternoon for Textures audiences. She will showcase a taste menu of her signature Eurasian dishes comprising a fusion of Portuguese, Spanish, Chinese and Indian cooking flavours, often liberally spiced with ingredients such as tamarind (Assam), belacan (dried, fermented shrimp chilli paste), chilli, coconut (dried or squeezed), lemongrass, and more.
Textures Artistic Director Wee said, "We are very proud to welcome Mary Gomes as the first Textures chef-in-residence. Mary's kitchen on Queen Street was a familiar port-of-call for folks working in the central cultural district, and her dedication to Eurasian cooking, developed over years of close observation of her mother's efforts in their kitchen, is evident in both her savoury creations and her popular sugee cake."
Second chef-in-residence, local brand KKI Sweets, has developed a loyal following since their early beginnings in 2009 on Ann Siang Hill, and have created an intimate long-table dining experience in their current Seah Street space tucked right into the Raffles Hotel. Founders and pastry chefs, husband and wife duo, Kenneth Seah and Delphine Liau, are passionate about creating dessert offerings that recall the everyday juxtaposition of colour, textures, and intensities in Singapore food.
Wee enthuses, "A highlight for many food lovers is 'J', a combination of black sesame, yuzu, matcha, and a delicate mustard seedling, that delights and plays with our visual expectations". Taking place in the following weekend, KKI will present a special dessert showcase after Country Foods' culinary concept presentation on the March 26, 2022, and an afternoon tea that marries the savoury and the sweet on the March 27, 2022.
Textures 2022: Chef-In-Residence Series
• A Eurasian Evening with Mary Gomes
Date: March 19, 2022
Time: 7pm to 9pm
S$48 per ticket, recommended for ages 16+
• Tea Time for Mary Gomes
Date: March 20, 2022
Time: 1pm to 2.15pm & 3pm to 4.15pm
S$21, recommended for ages 3+
Tickets: https://marygomes-textures.peatix.com
• An Evening with KKI Sweets
Date: March 26, 2022
Time: 7pm to 9pm
S$48 per ticket, recommended for ages 16+
• Tea Time with KKI Sweets
Date: March 27, 2022
Time: 1pm to 2.15pm & 3pm to 4.15pm
S$21, recommended for ages 3+
Tickets: https://kki-sweets-textures.peatix.com
Venue:
Country Foods Experiential Centre
Annex Building, The Arts House
1 Old Parliament Lane, #02-02, Singapore 179429
(The venue is located above Timbre X S.E.A.)