Two seniors share their experiences and that age shouldn't be a limit.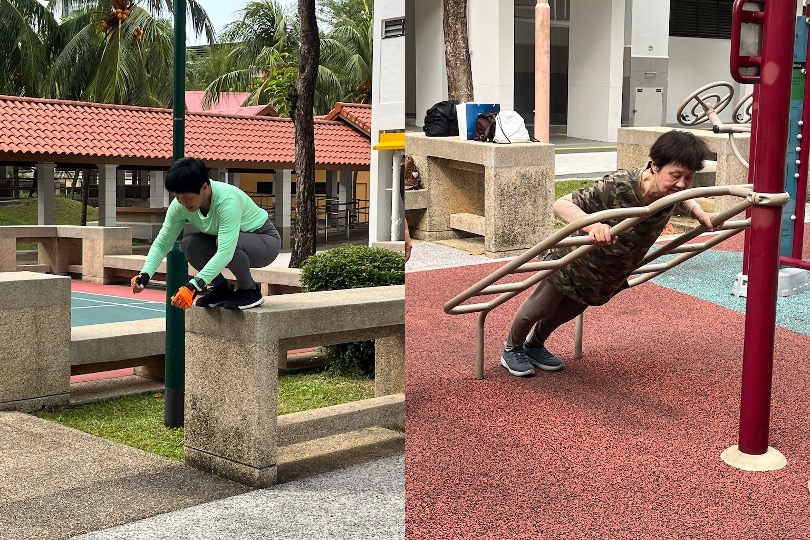 It is a little after 9am on a weekday and the outdoor fitness station area surrounded by several HDB flats in Ang Mo Kio has been turned into a parkour training ground. Ten women are rolling on the cement ground, hanging on the parallel bars, doing push-ups, jumping from high platforms, walking on the hand rails of benches, and crawling underneath sit-up benches. They started at 8am and they are still at it, in this session in groups according to their experience level. These women are not in their 30s or 40s, more like in their 50s and all the way to 70s!
Keep moving
One of the women is 71-year-old single Diana Tho, who started with the parkour for seniors programme by Movement Singapore in March this year. The former kindergarten teacher/principal likes being active. She hikes once a week with seniors to different places like MacRitchie Reservoir, Rail Corridor, Bukit Timah Hill and Dover Forest. She also cycles a few times a week from East Coast Park all the way to Changi Beach or the airport. She has even taken skateboarding classes to improve her balance, she explained, and now she skateboards once a month at the stadium. She believes that it is not just the physical aspect that is important but also the mental aspect – keeping the mind active. She does drum lessons and volunteers at her church, distributing food to underprivileged seniors, teaching youths, etc.
And why not take on another activity since she retired this year? Diana saw a Channel NewsAsia documentary where Movement Singapore's parkour for seniors was featured and thought this would be good for her balance. She shared, "As I get older, I don't want to end up in a wheelchair. I need to move, and not sit down and be a couch potato." But thoughts of possibly injuring herself didn't stop her from going ahead or continuing to practise parkour. She said that the instructor and founder of the programme, Tan Shie Boon, said to her to only do at her own comfort level so "I need to use my own discretion". She added: "I don't care about bruises and I am not afraid of falling to the point that I can't do anything. I watch the experienced ones and then I ask myself if I can do it and I do it to my level."
When she first started, she shared that it was challenging but doable. She had to jump from one platform to another but she could only hop. And when others could jump on a wall and cling to it with both their hands and feet at the same time, Diana could just hold on and walk her legs up. "I was not discouraged. I said to myself that I want to be able to do it eventually." However that task has yet to come up again as the various tasks in the programme are changed up during each session. But of those tasks that have reoccurred, she has noticed improvement in her crawling and balancing, and can do it for longer. She can also walk around the cement rim of a tree backwards, and her stamina and strength has improved.
She said, "Take small steps. If you say you can't do it, take some steps to arrive there at your own pace and ability. No one is pushing you."
Though some of her friends think she is crazy for doing parkour, she tells them: "You need to do this because we are getting older. My plan is to plan so that in my 70s I can still move and walk."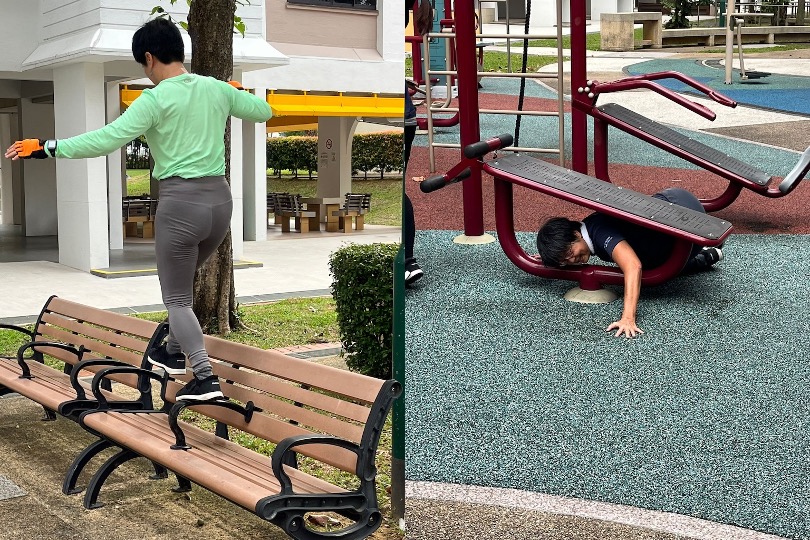 Before the session ends at 9.30am and some of the women head off for breakfast with Shie Boon, a regular sight occurs, one that the women naturally do during each of the sessions. Besides helping those who may not be able to hang for long on the hanging bars, some of them help to hold their legs so they can do it and they give them regular encouragement. As the session closes, the women clap and each of them do a side "hug" to each other, saying good job. There is clearly a strong camaraderie and support that exists in the group and one that keeps each of them coming back for the one-and-a-half hour session each week.
As they leave, one of the woman in her 70s walked away using her walking stick, which by the way she didn't use while doing the programme.
Going at your own pace
In another parkour session that was held on a Saturday morning, there was 70-year-old Peter Chia who started his parkour sessions back in July 2021. He got into it after his daughter recommended it to him. She had come across a group of seniors practising parkour in Bishan Park and thought he might be keen to take on another form of exercise. He shared: "After the first session, I decided to continue. The reasons are that no specific equipment is needed, it allows you to practise many body movements, it uses the available fitness corner and park, and the exercises take seniors into consideration."
He isn't too concerned about getting injured as he shared that the group have a good instructor that keeps in mind each individual's capability in doing the various exercises and movements. "We practise according to the instructions given by our instructor so the chance of injury is very minor. Furthermore, we work together as a team to take care of each other so as to avoid injury." Peter, who was in a supervisory role for more than 30 years in the precision engineering industry and later as a human resource officer in the shipbuilding industry, added that they learn step-by-step and only gradually move on to more difficult movements.
This grandfather of five and father of four represents a small male group that participates in each of the parkour for seniors sessions. That doesn't bother him much as he continues to return once a week. "We enjoy and have fun in every parkour session. We build our friendships over time and we get to know our body well such as our strength and weakness. We have learnt to fall safely. We have also become more observant to our surroundings and environments in terms of danger and obstacles. Furthermore, we are more energetic in doing the various types of movements. We practise parkour like childhood play!"Besides parkour, he also practises yoga once a week and does some jogging or brisk walking.
And so what does one need to practise parkour besides having an open mind to a new experience, Peter shared to make sure you wear a pair of anti-slip shoes. So with that, the rolling, climbing, jumping, vaulting, running and balancing continues.