Personalised entertainment
StarHub TV+ unifies all your favourite entertainment content into one simple platform, accessible in multiple ways depending on your preference.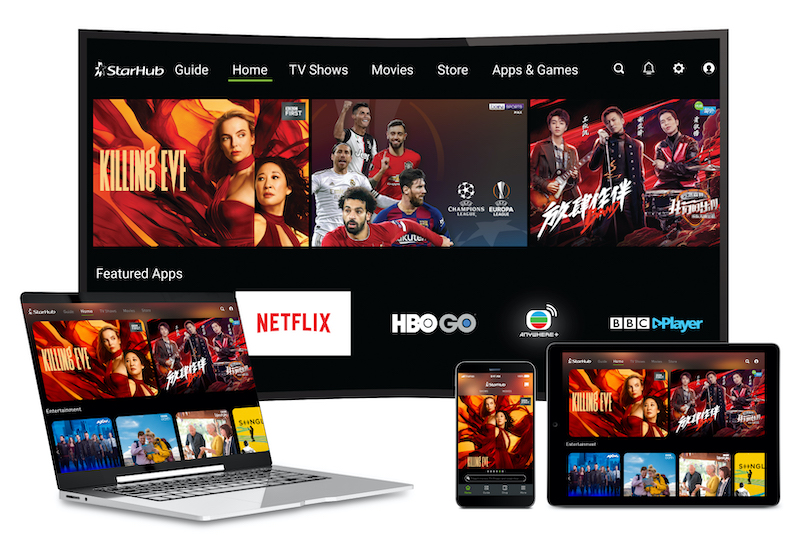 StarHub has launched the new StarHub TV+, an all-in-one simplified offering giving customers favourite streaming services, apps and TV programmes through a single platform. All new and existing StarHub customers can sign up for the new StarHub TV+.
Customers can watch all their favourite programmes, live sporting action and more anytime, anywhere via the StarHub TV+ mobile application or www.starhubtvplus.com. Customers who prefer a big-screen experience can simply top up for a plug-and-play StarHub TV+ Box or cast directly from their devices to their TV sets with Chromecast.
With live TV channels, VOD content and streaming apps all in one place, customers can better personalise their entertainment experience based on their viewing needs. By subscribing to any StarHub TV+ pass, customers will first gain access to StarHub's full content offering and then enjoy the freedom to customise and enhance their entertainment experience with other add-on packs and streaming apps.
Available as a contract-free option, StarHub TV+ subscription starts with six Passes – Entertainment+, Asian+, Sports+, Malay+, Indian+ and Filipino+. These six Passes are the simplified and streamlined offering of StarHub's repertoire of programmes from content partners. These Passes are readily accessible on any device and support undisrupted continuation across devices. Customers can switch between devices and continue instantly from where they have left off.
Customers can also freely add on other viewing options which includes third-party apps like TVBAnywhere+ (Premium) to complement their viewing preferences. Flexibility is also guaranteed, with the option to switch between Passes.
StarHub TV+ Box
Running on the latest Operator Tier version of Android TV 10, the plug-and-play StarHub TV+ Box is the best fit for big screen viewing and is compatible with any wireless broadband connection. The box delivers a customised user interface with enhanced and smart search recommendations, delivering StarHub's customers' favourite programmes directly to them.
With Netflix integrated, customers can seamlessly switch between StarHub TV+ and your favourite Netflix shows and movies using the dedicated Netflix button on the remote. That's not all, other integrated apps include BBC Player, HBO GO and TVB Anywhere+, offering customers a seamless and convenient one-screen-for-all viewing experience.
Available across all StarHub TV+ platforms, a key feature to be launched is Time Shift TV. Unique to StarHub TV+, Time Shift TV allows users to go back in time, up to 24 hours to catch the programmes they may have missed. This applies even to programmes which are currently airing, simply press Start Over and not miss out on your favourite programmes again.
Other features available on the StarHub TV+ box include the support of Ultra HD content (4K), Chromecast built-in and access to the Google Play store, so customers can download more of their favourite apps and games.
New content on StarHub TV+
StarHub also announced the addition of new content to its line-up to provide more quality choices and variety for its customers. All new content is available to customers now including beIN SPORTS CONNECT, which provides access to major European football leagues and other sports competitions live and on-demand; Now Baogu Movies on Demand for Chinese and Asian film fanatics; Euronews, Europe's international news channel; and Rugby Pass TV, a rugby-focused channel curated by Sky New Zealand.
Customers can sign up for a StarHub TV+ Pass from S$15 per month with a 24-month contract, or opt for a one-year or no-contract option and enjoy different tier of savings. Those who prefer the big-screen experience can rent the StarHub TV+ set-top box at S$5 a month, with a one-year commitment. As a launch promotion, all recontracting customers can enjoy 12-months HBO Pak and free 12-months StarHub TV+ box rental, enjoying savings of S$227 a year. The HBO Pak also comes with free access to the HBO GO streaming app.
For new customers, StarHub is launching a trial period of two months to experience the new StarHub TV+ Passes starting from S$15 per month. This will also include a one-year access to the HBO Pak. There are no early termination charges within the trial period.