This can be a hard thing to do but knowing what you want can reduce any additional headache for your family and friends.
BY: Gracie Han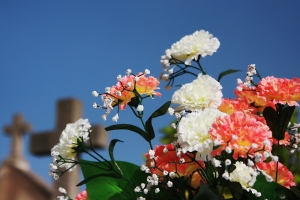 Though death is often a taboo subject, it is often not seen as part of active ageing, when it should be. Planning your own funeral can take the pressure off your family and friends by making them less likely to face a nasty bill or difficult decisions when the time comes.
So here are some things you might want to make sure are included in your planning:
1. When should you start planning your funeral?
Planning for a funeral at a young age was more common in the past. However, in today's society, it is different due to our mobile and ever changing society. It is highly recommended that planning should take place in your 40s or 50s. At this age, one is more likely to be financially stable and settled. 
2. Which funeral services?
Funeral arrangements are a deeply personal choice. One should choose a reputable service parlour, which will carry out the services that best represents your lifestyle as well as taste. You can always consider visiting a few funeral parlours; they have representatives who will explain clearly their services and facilities. 
3. Burial or cremation?
In Singapore, the Choa Chu Kang cemetery complex is the only cemetery still open for burial. However, with effect from November 1, 1998, the burial period for all graves will be limited to 15 years. At the end of the 15 years, the graves will be exhumed. For those whose religion permits cremation, the exhumed remains will be cremated and stored in columbarium niches. As for others, they will be exhumed and plotted to another area.
4. How much should you set aside for your funeral?
Funeral costs are increasing yearly. However, in Singapore, funeral costs are still kept affordable, prices start from S$3,888 and can go up to S$68,888. There are very comprehensive packages available in the market, which one can consider which includes quality caskets, food catering services, obituary placements, etc. By purchasing such packages, it will help to relieve yourself of unnecessary future worry and your family members of unexpected expenses.
5. Who to attend your funeral?
Besides having an obituary to inform friends and relatives, you may also like to have a list of people whom you would want to be at the service. This list could be passed to your loved ones who would be responsible for the invitations. If you have any other special wishes/requests about your funeral, make sure you let your family know in advance. This can include anything from the picture at your funeral, etc.
** Gracie Han is the service director at New Vision Alliance, a distributor of Nirvana Memorial Garden, a Buddhist columbarium.
(** PHOTO: life and death 1, hoye, stock.xchng)
---