The Probi range increases iron absorption and supports bone health.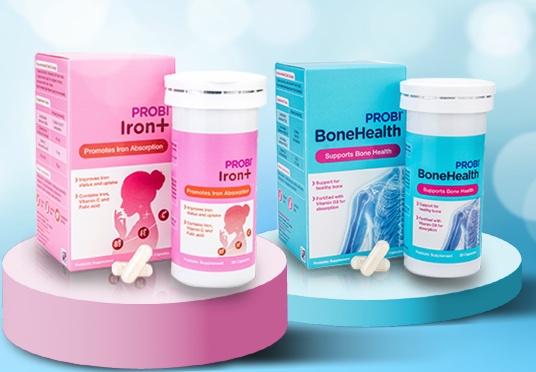 DKSH Business Unit Healthcare has acquired the rights to Probi AB to bring its range of probiotics to Singapore. Hence, it has launched Probi Iron+ and Probi Bone Health.
• Probi Iron+: An innovative probiotic supplement to increase total iron intake, uptake and to support iron status. It is based on patented bacteria strain Lactobacillus plantarum 299v (LP299V), combined with iron, folic acid and Vitamin C. Multiple clinical studies have shown that LP299V increases iron absorption and boosts intake and uptake. It is suitable for vegetarians.
• Probi Bone Health: General recommendation for bone health today are intake of calcium and Vitamin D however, if calcium and Vitamin D levels are adequate, additional intake will not have any beneficial effect. Thus, differentiating Probi Bone Health as it is a new and innovative supplement which contains three probiotic strains to support bone health. The three probiotic strains (Lactobacillus plantarum HEAL9, Lactobacillus plantarum HEAL19, Lactobacillus paracasei 8700:2) have been studied to help reduce the loss of bone mineral in postmenopausal women for stronger bones. The product also promotes healthy intestine environment.
** Probi Iron+ and Probi Bone Health retails for S$49.90 each and are available in select Watsons stores, Shopee and Redmart.