Rediscovering Tanjong Pagar in a new way
A two-hour interactive performing arts walking tour where participants learn more about the area.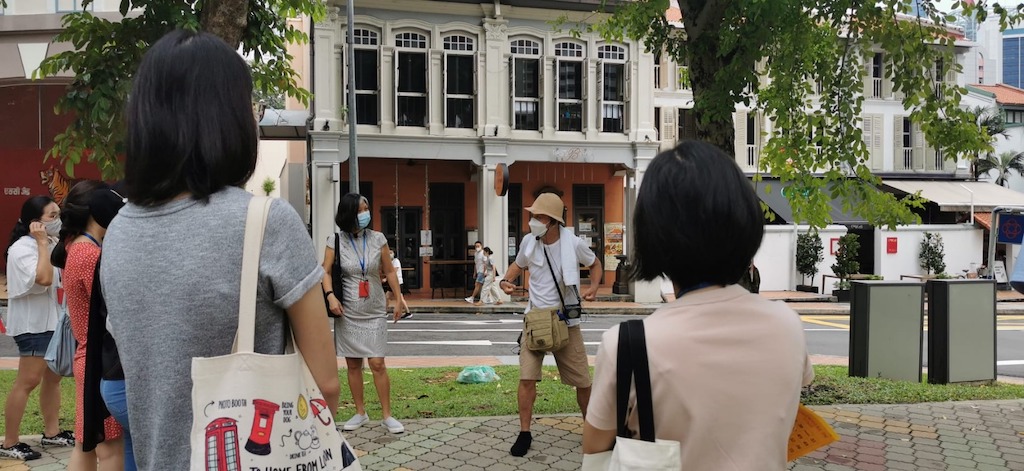 There is a new two-hour interactive performing arts walking tour in Singapore called "Somewhere In Time", where participants get to learn about the past and present of Tanjong Pagar, one of Singapore's first conservation areas. Enrolled as 'errand runners', participants will be led by a tour guide and a mystery guest who is an actor. They will be guided to retrace the paths that our pioneers had taken to strive for a healthy and better tomorrow, and uncover the stories and sites of historic Tanjong Pagar. Participants will also discover and explore the various foods, goods and services of the area.
Shared 67-year-old Jean Wang, one of tour guides for the tour, "This innovative performing arts tour project provides employment for both tour guides and actors who are all affected by the COVID-19 pandemic. Creating a new interactive tour experience and sustained employment will bring joy to local participants while at the same time, they will learn about the rich historical heritage." The tour is a collaboration between the Society of Tourist Guides and Theatre Today.
She added: "The tour brings awareness to the often forgotten Tanjong Pagar area, showcasing the Urban Redevelopment Authority's early conservation efforts of the unique architecture there aka shophouses. This tour incorporates storytelling and dramatised scenes between a tour guide who is also playing the role of an errand service owner and an actor as they take participants through the various sites in Tanjong Pagar."
Stage managers will also present in the tour as they will manage the production cues and props, and handle administrative logistics including the sound system. Jean shared that there is a rotating team of eight tour guides/actors/stage managers with three of the team members being above the age of 60.
Trying not to reveal too much, she shared that in the spirit of gamification, bingo cards will be issued with quiz questions posed at various intervals where participants will have to recall the sites and significant facts of each site. At the end of the tour, the bingo winners will win specially-curated prizes.
This new performing arts walking tour pilot is being supported by the Singapore Tourism Board and the National Arts Council. The cost of the tour is S$60 and participants can use their SingapoRediscovers vouchers. The walking tour is available on Saturdays from 9.30am to 11.30am or 3pm to 5pm from November 27, 2021 to March 24, 2022. The starting and ending point of the tour is Maxwell Food Centre. This tour will operate rain or shine and is not wheelchair-accessible due to the stairs and steps on the route.
To book, go to Klook or the Society of Tourist Guides.