Refreshed C3A website and mobile app
Providing more options for seniors online.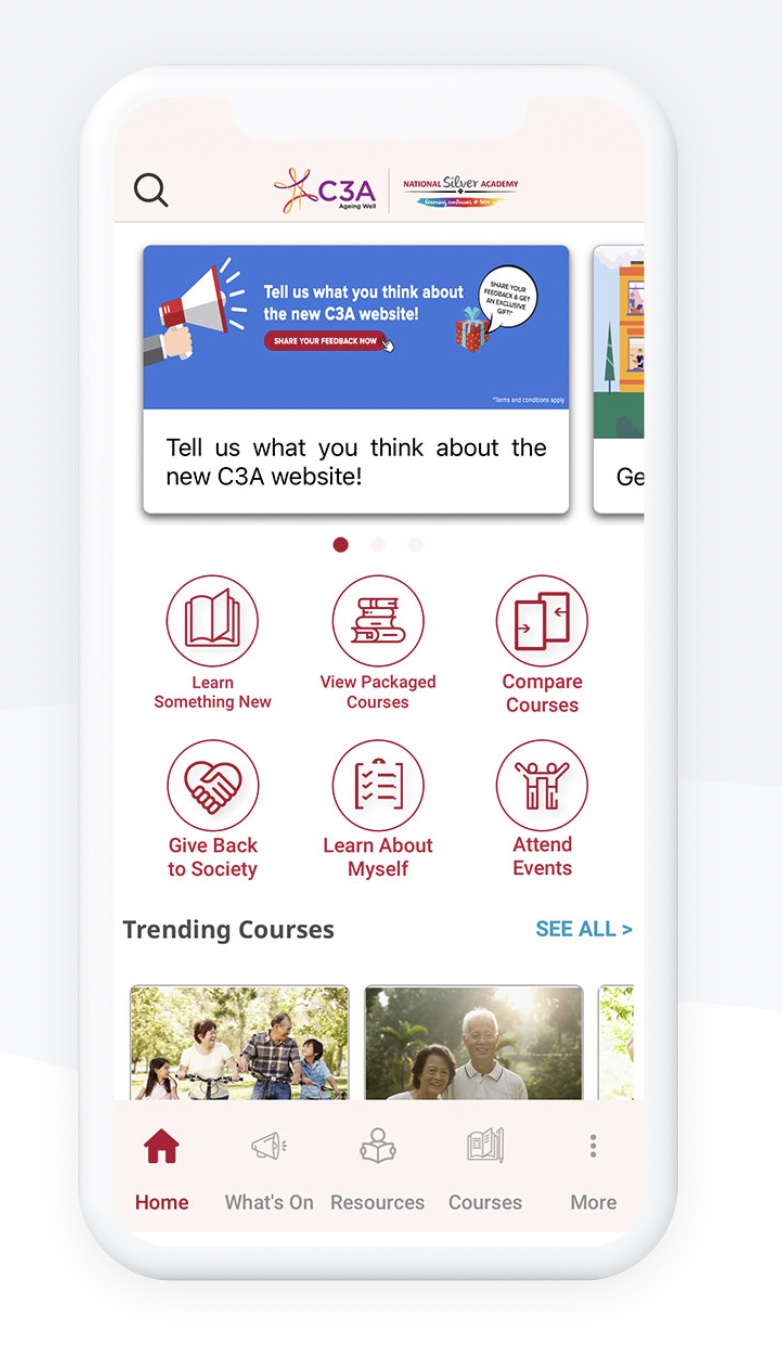 The Council for Third Age (C3A) has officially launched its newly revamped website and a mobile app. These will be the first digital platforms in Singapore that bring together learning and volunteering opportunities as well as curated news and events for seniors under one roof.
"We deliberately refreshed the C3A website and mobile app to be more 'user-friendly' for seniors. We want more seniors to go online. We also want to set a good example to encourage other organisations to do so. To sustain seniors going online, there must be diverse and quality on-line contents for them. C3A is actively encouraging service providers to digitalise contents that are senior-centric and senior-friendly. Digitalisation journey for seniors can only be successful if Singapore continues to support an active eco-system that caters to this segment's needs," said Kwok Wui San, chairman of C3A.
He added, "The pandemic was especially hard on seniors. Many suddenly lose the ability to attend normal physical learning programmes to keep active. We are encouraged to see a large increase in seniors going on-line to access learning and volunteering opportunities. This can't happen without our partners providing quality on-line contents. Many do so despite facing challenges during the pandemic and digitalisation capabilities. We are grateful so many have supported on-line active aging programmes for senior."
With the revamped C3A website and mobile app (which is available on Apple and Android), seniors can pursue learning in diverse areas with over 1,000 learning opportunities. They also have access to learning resources such as articles and videos, volunteering opportunities, deals, activities and more, on-the-go.
The website and mobile app come with new features to make the user experience more personalised. Seniors can now create their own account to track their learning journey, bookmark and share courses and events, review courses that they have attended and do a self-assessment quiz to find courses that best suit their learning interests.
The revamped C3A website and mobile app will also pave the way for more digital learning formats for seniors, expansion of learning topics, wider variety of asynchronous learning courses and more senior-centric content such as a nostalgia-themed microsite with virtual and physical events, online games and videos to help seniors apply technology to their lives.