SG Enable launches new corporate website
An information hub to support stakeholders in their disability inclusion journey.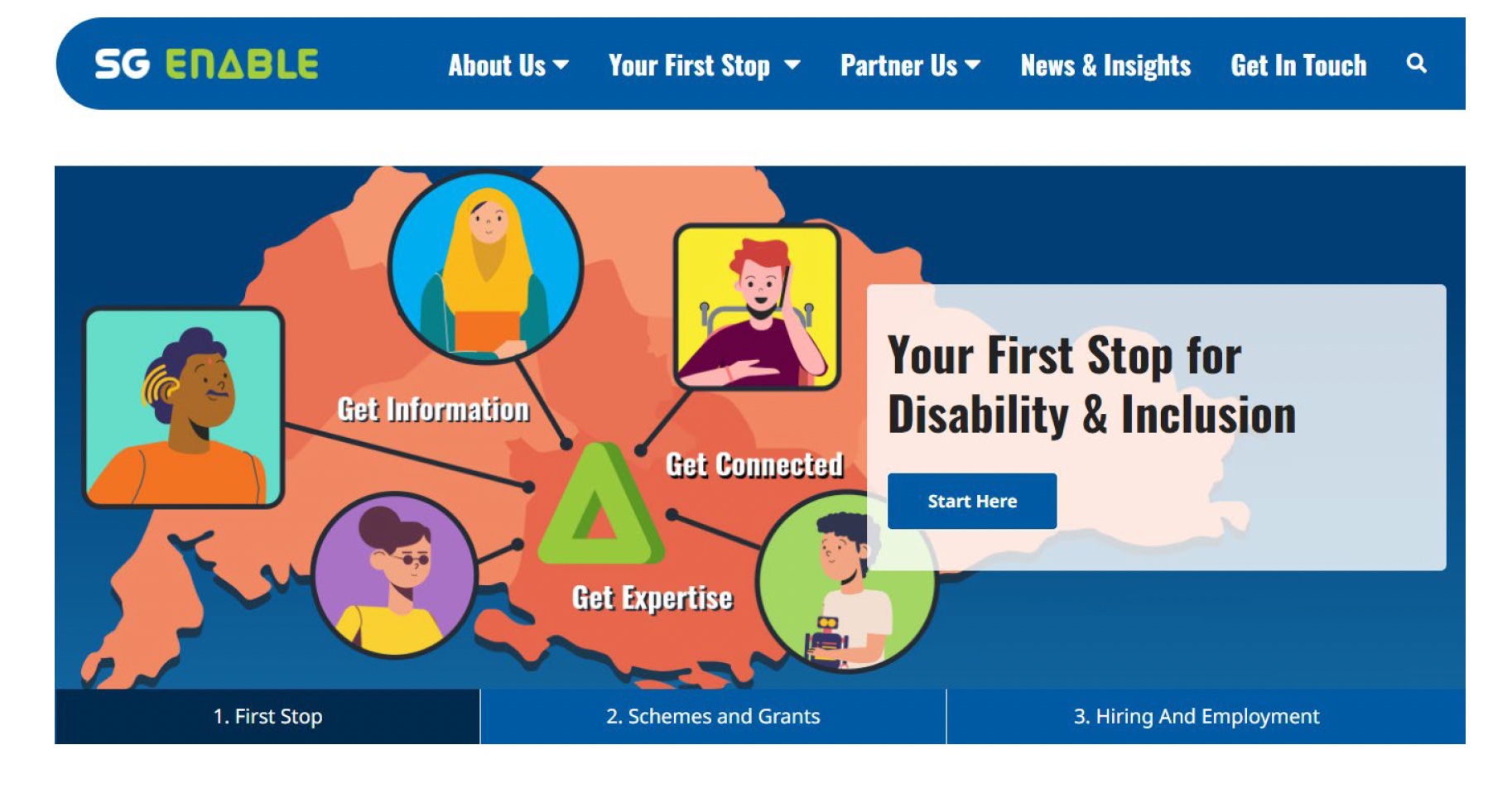 SG Enable, the focal agency for disability in Singapore, has launched its newly revamped and mobile-friendly corporate website – www.sgenable.sg – to provide a more seamless user experience and serve as an information hub that will better support various stakeholders in their disability inclusion journey.
This follows the consolidation of disability service-related functions from the Ministry of Social and Family Development (MSF) and National Council of Social Service with SG Enable in October 2020, and MSF's recent migration of the SG Enable website to a new website content platform.
The revamped website has a revised content structure to better reflect SG Enable's role as the first-stop touchpoint of the disability sector. It makes it easier for organisations and partners keen on advancing the disability inclusion cause in Singapore to come forward and engage SG Enable as the first port of call. The revamp has brought to the fore programmes, schemes and grants – for corporates, social enterprises, community groups, social service agencies and the public – that enable greater learning about disability inclusion, disability-inclusive hiring, and social innovations.
The information about SG Enable and the work it does can be found through five tabs: About Us, Your First Stop, Partner Us, News & Insights and Get in Touch.
Key pages that users could be interested in:
Your First Stop – start here to get information, get connected and get expertise in areas such as training and consultancy, community integration, disability professionals, hiring and employment, accessibility and assistive technology, and social innovation.
Partner Us – SG Enable welcomes collaborations with like-minded partners to advance disability inclusion.
About Us > Our Impact – learn about the local disability landscape, the different disability types, and SG Enable's work in building an inclusive society and enabling lives.
Meanwhile, persons with disabilities and their caregivers will continue to be able to access the Enabling Guide (www.enablingguide.sg), a resource portal on various disability support schemes and services. SG Enable administers Government-funded schemes and grants, and also make referrals to various care services for children and adults with disabilities. Information on these – previously hosted on the SG Enable corporate website – has been consolidated at the Enabling Guide for easier navigation by users.
Ku Geok Boon, CEO, SG Enable, said: "The revamped website is an important step in our efforts to support partners in their disability inclusion journey. We hope it serves as a useful 'first stop' resource site for our stakeholders as we partner one another to build a more inclusive society and enable lives."