A group of women aged 59 to 82 share their thoughts in a segment called Not Grey: Intimacy, Ageing and Being as part of the Festival of Women N.O.W. 2021.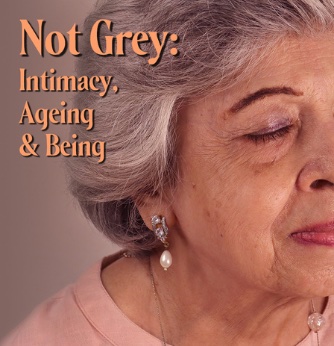 "As ageing women invisibilised in today's world, what does it mean to be in life, to feel closeness to life?" This question was posed to a diverse group of women aged 59 to 82 – including a hairdresser, ballet dancer, activist, natural healer, hiker – where they got to reflect on nature, relationships, childbirth, death, sex, and how these change with age.
In video vignettes, interactive performances, and writings, their sharings are aired in a segment called Not Grey: Intimacy, Ageing and Being as part of the Festival of Women N.O.W. 2021 that is being streamed online on July 22 to 25.
One of women or "collaborators" who will be sharing in this segment is 81-year-old Choo Ai Keow, a grandmother of two, who will be speaking about hugging and the love that one can be expressed through this act of intimacy. "I always think about the idea of hugging and the physical act of embracing someone. My children live overseas, so when we meet at the airport or say goodbye, we will hug. But when I spent time with my son's family in Melbourne, I saw that hugging was not only a gesture of greeting or farewell. There was a daily intimacy about the people there, even old people would walk around whispering to their partners, sharing intimate moments in public."
Ai Keow is a familiar face. She has acted in short films and commercials, and is a part of Glowers Drama Group and The Necessary Stage's Theatre For Seniors. "I meet a lot of people on set, young or middle-aged. And when I say goodbye to them, I will hug them. Acting is a very intimate job, often times there is physical intimacy in the roles I play. Some of my peers in my generation have not been comfortable with me expressing this sort of intimacy; one of my friends once even scolded me when I tried to hug her. I kept quiet then, but I was thinking to myself, 'Why not?' Why must we shy away from these things when intimacy is just about showing how much you care? It is the feeling of being cared for, the love you experience from a hug."
Through sharing about this in the segment, she shared that she has learnt to be more open to herself and her need for face-to-face interactions and physical intimacy. "I also learnt to express myself more," she said.
For instance, Ai Keow shared that she enjoys performing and people around her often times don't understand. "Many of my friends will see me acting on TV, maybe as someone's mother or on my deathbed, and they will call me and scold me. 'Why are you doing this [acting]? It's so pantang to act like this!' 'You too free at home is it?' But I will smile and ignore them. Because I love performing."
She also shared about her sister-in-law who also doesn't understand why she likes to perform or why she shares about her life through acting. As for this, Ai Keow has this to say: "But what are we afraid of? Why is it that when we turn older, we have to disappear? Look at Western societies. Just because I'm old, doesn't mean I have to stop living. Even a 74-year-old can get an Oscar [Yuh-Jung Youn, Best Supporting Actress for Minari] or 81-year-old Chen Shu-fang who also won Best Leading Actress in the Golden Horse for her role in Little Big Women.
"So if they can do it, why can't we do it? Just because I am old does not mean I cannot engage in these topics. I think all this shows that what matters is that you open your heart and share with people, and do what you like. I also want to expand other people's idea of intimacy and encourage everyone to open their heart and share their joy and passion with people."
Another woman taking part in the segment is Ajuntha Anwari, who created a platform called Medicine Woman Asia showcasing the healing plants of South Asia. The 70-year-old is particularly well-versed in the indigenous healing traditions of Jamu and Ayurveda, and is a strong proponent of living foods. During the segment on Grey: Intimacy, Ageing and Being, the mother of two will be doing a performance as well as giving a workshop.
She explained on what participants can expect – "The performance is about my soul awareness and the intimate relationship I am having with my spirit and soul. Instead of yearning for sexual intimacy, I yearn an intimacy with my soul. The soul does not die, but lives on eternally with every rebirth through many women's vulva. In the workshop I will be showing participants how to protect their reproductive system against bacterial infections. Sexual contact between people breeds bacterial infections, like urinary tract infections, vaginal discharges and even cancer. The Jamu tonics they will be introduced to, and make themselves, are ones that are used in the Jamu medical collection to prevent diseases arising from physical sexual unions. These tonics are also useful for young women with menstrual problems."
By sharing her thoughts, she said, "I became aware of my vulnerability as a human being and an evolving woman. The performance gave me encouragement that I am living my purpose, that is to have an intimate relationship with my soul."
Ajuntha added: "I was once at a workshop where there were a group of women, all in the same age group as myself. We were asked to write our thoughts on intimacy on a piece of paper. At that exercise, I felt compelled to be brief and wrote down a few lines about my intimate relationship with nature.
"My partner on the other hand, expressed her departure from intimacy by a simple waving her hand, I suppose to say goodbye to intimacy. I can relate to her gesture, that in my mind meant a life now free from sexual intimacy. Most older women do not need to grow spiritually through sexual intimacy. The intimacy I seek is of a deeper relationship with myself and the forces that make me a woman."
SIDEBOX: The woman behind the segment
Ageless Online spoke to Salty Xie Jie Ng, 33, who conceptualised and directed Not Grey: Intimacy, Ageing & Being:
Why did you decide to come up with this segment on intimacy, ageing and being?
I wanted to look at the intersections of intimacy, ageing, and being a woman in Singapore, especially at a time where a lot of traditional ideas are giving way to new ones. What sorts of closeness do women experience in their lives? What do they think about sex? What does ageing mean to them? It is important to note that intimacy is a lot more than sex; we can approach it from the emotional, intellectual, spiritual and physical – of which sex is only one component.
Not an easy topic to discuss especially in an Asian society that we are living in?
Other than the obvious difficulty in discussing sex, the lens of intimacy is one that people are less inclined to anywhere, not just here. It is generally a taboo or ignored subject, which I think is symptomatic of living in a world of fear, caution, distance, and surveillance.
What were some challenges in doing this segment?
It was originally conceptualised as a live performance but due to COVID Phase 2
Heightened Alert, we made a huge shift towards a virtual platform. Navigating the
requirements, possibilities, and challenges of presenting virtually has thrown me into new territory. Another big challenge has been holding space for 15 women. To get deep with each person and then work together to express a story takes a lot of time, reflection and relationship-building.
What is the end-goal from such discussions?
I hope the senior women collaborators who opened themselves up to the process gain new perspectives on themselves and on ageing. Their intimate process with themselves is most important and my main priority. They are coming from a vulnerable place of deep sharing. The audience can then connect with their narratives and be challenged to think differently about the intersections of ageing, intimacy, and being a woman.
I understand you are interested in the topic of ageing. Why is that?
I am close to my grandparents and have always felt connected to older people. There's a lot they can be invited to express, which busts stereotypes of age and the ways seniors are usually infantilised. Even seeing seniors as beacons of wisdom is a stereotype. Like all of us, they are complex humans, just older.
(** To hear the various sharings of these seniors and others, go to: https://www.sistic.com.sg/events/zlnow0721b. It is by donation of S$25 to S$50.)
(** PHOTO CREDITS: Ajuntha and Ai Keow by TWorks and Salty by Alfonse Chiu)