TCM – a viable option for managing dry eye
Researchers found acupuncture across four weeks led to favourable changes in protein levels in tear fluids.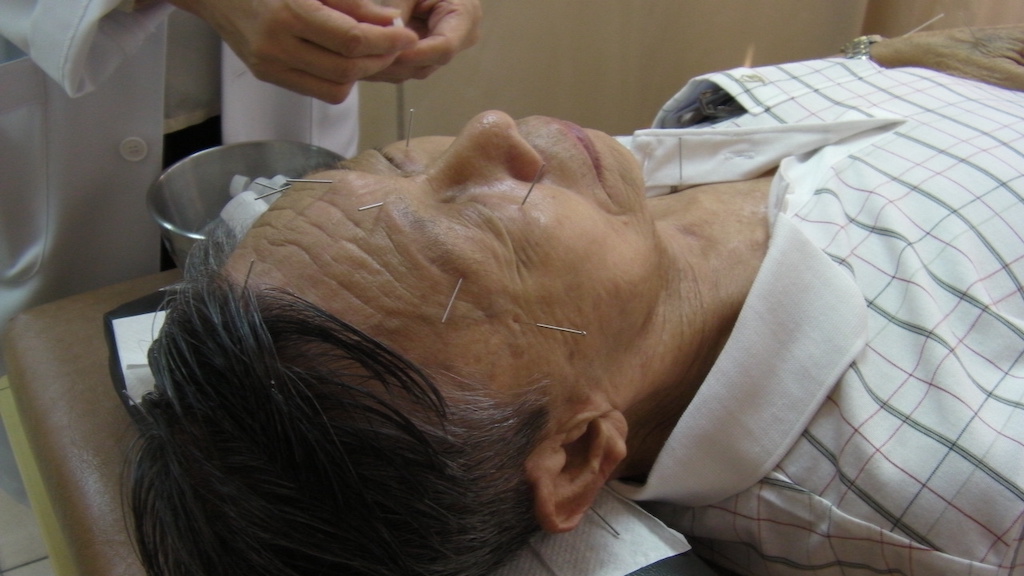 Acupuncture can alter the levels of proteins secreted in tear fluids and help patients who suffer from mild to moderate dry eye disease, according to a recent study by the Singapore Eye Research Institute (SERI) and the Singapore Chung Hwa Medical Institution (SCHMI). The findings are the latest in dry eye research by the two collaborating institutions, and further suggest that Traditional Chinese Medicine (TCM) can pave the way for managing the condition.
Twelve percent of Singapore's population suffer from dry eye disease, and 90 percent of these patients have mild to moderate cases. The risk factors are common including the use of digital device screens, air-conditioning, ageing population, psychological stress, contact lenses or allergies. Dry eye disease is caused by the lack of adequate tears, which is crucial in keeping the eye surface healthy. Symptoms include redness or irritation of the eye, sandy or gritty sensation in the eye, droopy eyelids, watery eyes, light sensitivity or blurry vision. Dry eye, in its less severe form, is commonly controlled using over-the-counter medication and lubricants like eye drops and eye gels.
"Majority of dry eye patients in Singapore have them in the mild to moderate form. It is thus worth considering treating this group of patients in the primary care settings and by exploring and focusing on holistic treatments like TCM, to help them keep cost and care affordable and to prevent their condition from worsening, as this group of dry eye patients tend to be associated with systemic conditions, and not just local dry eye deficiency alone," said Dr Pat Lim, head of the TCM Ophthalmology Department, chief physician and board vice-chairman at SCHMI and the principal collaborator for this study.
She added: "With the previous successful research studies we have conducted, and scientific evidence from the studies, we are able to standardise and develop acupuncture and herbal prescriptions like Qi Ju Gan Lu Yin (杞菊甘露饮) that can provide better therapeutic effects for dry eyes condition." In assessing patients in the primary care setting, there is a five-step approach, starting with providing artificial tears, USB eyemasks, supplements and health screening (including sleep), medicine including tablets for acne, and then TCM.
The acupuncture study compared 15 dry eye participants who used a lubricating eye gel together with eight acupuncture sessions over four weeks (variable group), and another 15 dry eye participants who used only the eye gel (control group). Nine out of 15 participants (60 percent) in the variable group were examined to have an increase in supportive proteins and a decrease in inflammatory proteins. On the other hand, only four out of 15 participants (27 percent) in the control group showed equivalent patterns of protein change.
This study, together with an earlier one conducted in China, suggests that acupuncture does not simply stimulate a reflex irritation of the tear fluid, because that tends to change the tear volume without inducing a beneficial alteration of the alteration of the tear film. This is particularly of interest to the researchers because dry eye is most commonly a defect in the components of the tear rather than insufficient tears. The study found that it took only one month or eight sessions of acupuncture to get these results and saw no relapse of dryness after those sessions, according to Dr Lim. A session of acupuncture costs around S$18 to S$25 per session.
With the encouraging findings from the acupuncture study, the researchers are also embarking on exploring the efficacy of herbal remedies – another aspect of TCM – on dry eye for peri- and post-menopausal women with liver-kidney yin deficiency. This will be carried out via a 12-week randomised-controlled clinical trial.
Liver-kidney yin deficiency refers to one pattern differentiation categorised under systemic health, which is mainly characterised by dry eyes, anxiety, hot flush, night sweats, dry skin, warm palms and soles, knee and back soreness, ache, etc.
Compared to the rest of the population, peri- and post-menopausal women have a higher incidence of dry eye disease. Studies done in the US have shown that the rate of dry eye disease in women over 50 years old is nearly double (seven percent) that in men over 50 years old (four percent).
Studies suggest that this could be due to the hormonal changes experienced by women during and after menopause. "We see a significant number of peri- and post-menopausal women who are very symptomatic at our dry eye clinic. About 70 percent of patients are women and more than half are above 55 years old. Such patients are not likely to benefit from conventional prescription drugs for dry eye, such as cyclosporine and corticosteroids. Hormonal replacement therapy for menopausal women is not yet universally accepted and carry risks. Topical hormonal therapy for dry eye is also not widely available and is still controversial. We see an opportunity to employ new therapeutic modalities, such as TCM, to treat dry eye in these women," said Professor Louis Tong, principal clinician scientist and head of the Ocular Surface Research Group, SERI, and senior consultant, Corneal & External Eye Disease Department, Singapore National Eye Centre.
From March 1 2022 to August 31, 2023, the clinical trial is recruiting 150 peri- and post-menopausal women between 40 to 79 years old, who have dry eye symptoms like eye irritation, burning or watering. Treatment will be for three months. For enquiries to participate, members of the public can e-mail SERI's research office at res.recruit@seri.com.sg or contact SCHMI at 6877 4203/8424 0546 (9am to 5pm, Mondays to Saturdays).
(** Photo credit: Singapore Chung Hwa Medical Institution)