A ground-up initiative is bringing back this old activity to connect seniors and youths.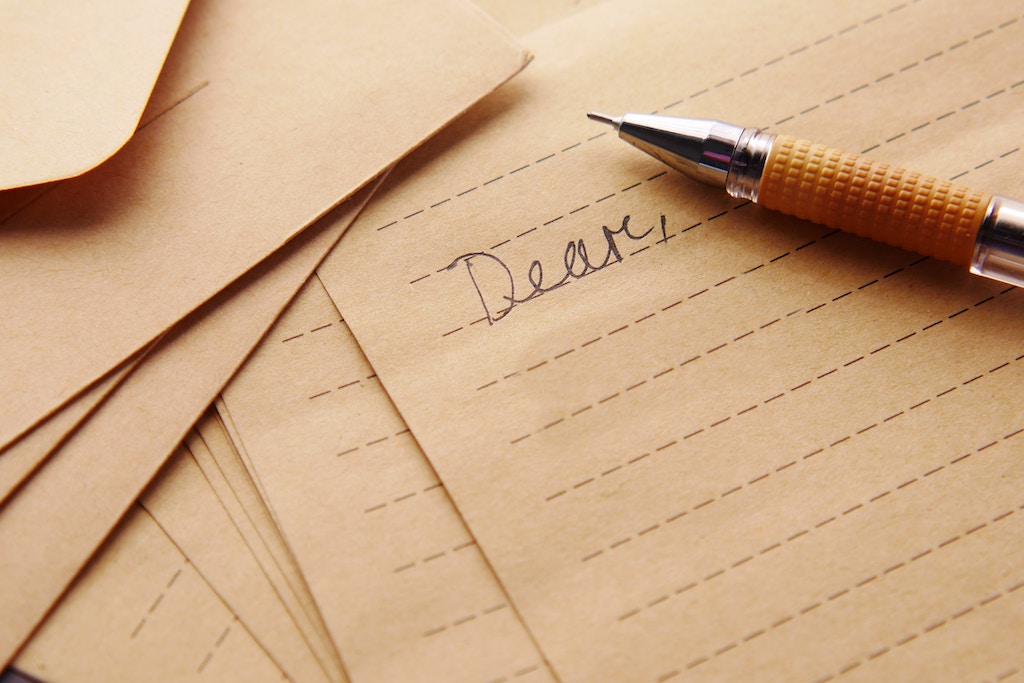 Letter-writing was commonplace for people to get in touch with other people separated by distance. But these days, with the advent of the handphone, it is a thing of the past with people rarely picking up their pens and paper to communicate, and mailing them off.
However, a ground-up initiative called Penpals in the Community is welcoming this activity back as a creative way to bridge the generation gap between seniors and youths, and learn about each other, albeit a little slower than WhatsApp!
"A lost art"
One of the letter-writers is 70-year-old Lesley Low who remembers fondly the days of letter-writing when she had pen pals hailing from the US and France. Calling it "a lost art", she lamented: "Young people do not write letters anymore as there are other much faster means of communication such as WhatsApp, WeChat, Telegram, email, SMS, etc. Also, nowadays people expect an instant response and they rarely would be interested to go back to letter-writing, which requires planning, time and patience. That was also the reason why I jumped at the idea of being matched up with a young person as my pen pal through Penpals in the Community."
She got matched up with Jenelle Lee, 18, in January this year and was even sent paper and envelopes by Penpals in the Community to get started! Lesley shared that she first introduced herself, talked about her hobbies and how she lives as a senior. She also asked her pen pal to share about herself, her school life, what she does in her spare time, etc. "Through these letters, we slowly get to understand each other better and we also share our thoughts or feelings," said Lesley.
And overtime, their friendship blossomed. "Both Jenelle and I are now very comfortable with each other and communicate easily like friends. Our friendship just fell in place. She is also a very caring person and even made an effort to get my handphone number when I was tied up with a lot of work and did not have enough time to answer her letter. We can now also communicate through WhatsApp!"
Added Jenelle, "Having never done penpaling before, it was an exciting experience going through the process, especially since letter-writing is less common nowadays. Writing to Mdm Low was also really enjoyable for me – I liked getting to know her as a person and the experiences she had in her past. While we may not exchange letters as frequently anymore, I find it comforting to know that I can reach out to Mdm Low anytime to ask her for advice or just for some fun company."
Not only does Lesley have a new friend that is not her age and she got to experience an old activity that she was used to do, she also gained some perspectives about youths. "Seniors may have this perception that youths are self-centred and impatient, don't really like to mix with older people, and are not empathetic. But this is not true as I have good friends who are much younger than me and we enjoy each other's company and share experiences. Young people of today are definitely different from those of my generation and they have great skills that we can learn from – I especially envy their savviness and literacy with IT and social media."
It hasn't all been though paper and pen. Both Lesley and Jenelle have also met each other virtually over Zoom through one of the events organised by Penpals in the Community as well as face-to-face when they had to be interviewed by a group of students for a project. It is always good to put a face to those letters. Lesley added: "Letter-writing requires us to be more mindful and reflective. Letters create tangible memories for both the senior and the young person when we re-read the letters. We also feel a sense of anticipation and excitement when receiving a letter, which is not the same as scrolling through our phone to find a message. I believe this initiative makes youths feel more valued and appreciated, and can lead to better understanding and more effective communication between seniors and youths."
Its beginnings
This would all not be possible if the Penpals in the Community was not started back in August 2020 after the Circuit Breaker when there were still several restrictions on movement around the island. Initially, it matched youths and seniors, but it now matches seniors with other seniors and young adults to children. There is no fixed frequency for pen pals to write to each other, however, it is encouraged that they exchange at least three to five letters in three months, which comes out to around one to two letters per month. Those who sign up are matched according to their language preferences and hobbies/interests if possible.
The brainchild of Penpals in the Community, 30-year-old Valerie Ho, whose day job is a business analyst, shared that she started the initiative as she enjoys writing letters to friends. When she chanced upon an article of a hospice that started a pen pal activity between patients and their family/friends, she was inspired to do something similar for seniors in the community.
She said that she was surprised that many youths took to her initiative., explaining, "One of the reasons could be because many of the youths have not been exposed to letter-writing or have not really tried mailing out letters before. Some common questions I received from youths were how many stamps should I put on the envelope and where can I buy stamps, hence, I think that the lack of opportunity for youths to write makes them curious and interested to try."
Valerie has also made it easy for them to get into the activity by providing a list of prompts that youths can use to start their first letter to their senior penpals. "Once they are matched, we will also share the hobbies or interesting info that their matched penpal has shared so that they can also ask or share their stories in the letter to their penpal," Valerie added.
So far, Penpals in the Community has matched more than 50 pairs of seniors and youths with the youngest being nine years old and the oldest, an 83-year-old. The organisation continues to recruit youths by sharing on its social media platform and through word-of-mouth, and work with senior activity centres, other ground-up initiatives and non-profit organisations to get seniors to join. Beyond matching the seniors and youths for the letter-writing, Valerie and her small team also organises the occasional event or activity to bring the pairs closer even though some have already initiated their own meetups. Last year, pen pals got to meet and cook together.
Valerie shared that it comes down to the stories that keep her and her team going. "Most stories shared by pen pals have been heartwarming as they shared how they discover a common interest and could get along well despite the age difference. I have also heard of youth pen pals sending Chinese New Year (CNY) goodies to the seniors during the CNY period and some visiting them during that period too.
"The most memorable story is one between a 17-year-old and a 83-year-old. They were first matched in 2021 and have been writing to each other regularly till now. As the senior is unable to read and write on her own, her daughters take turns to read and reply to the letter to her pen pal every few weeks. Her daughters shared that this experience has also allowed them to bond more with their mother and also heard new stories that they have not heard previously. Hence, they felt that it was an interesting and precious experience for them. Ever since then, we have been visiting the senior pen pal almost every school holidays when the youth pen pal is free."
And it all started from an old activity. Maybe it is time for us to consider writing a letter and give our phones a break! Sincerely, this writer.
** If you want to be a pen pal, write to penpalsinthecommunity@gmail.com.
(**PHOTO CREDIT: Towfiqu Barbhuiya/Unsplash)